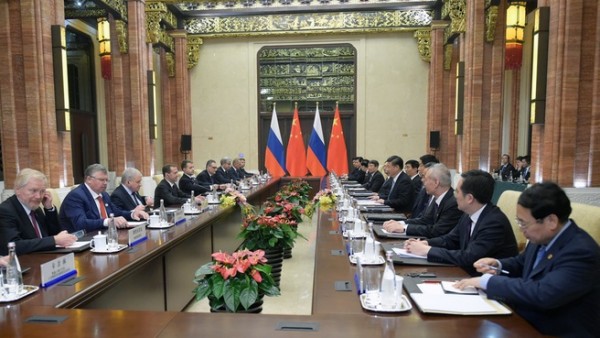 Beijing and Moscow will deepen "China-Russia comprehensive strategic partnership of coordination, no matter how global and regional situation change" Chinese President Xi Jinping told visiting Russian Premier Dmitry Medvedev.
The Chinese President urged the two neighbours to work on aligning projects of the China's Silk Road Economic Belt construction and the Russia-led Eurasian Economic Union (EEU).
"Both countries are facing a key period of economic mode transformation and structural adjustment," Xi admitted.
In the third quarter of 2015, China reported GDP growth of 6.9 per cent while Russian gross domestic product declined 4.1 per cent in the same period.
The Fifth annual Plenum meeting of the Central Committee of the Communist Party of China (CPC) ended in Beijing in October amid increasing focus on how to reform the country's juggernaut economy as major industrialized nations face global recession and stagnation.
According to a CPC communique, China will target medium to high economic growth to 2020, seeking to double its GDP and per-capita income during that time.
"The two countries should jointly explore new ideas and new measures to expand cooperation in areas such as trade, investment, agriculture, infrastructure construction, people-to-people exchanges and local-level ties," Xi told Medvedev during Tuesday's meet.
The Russian Premier also discussed Sino-Russian coordination on international affairs, and within the Shanghai Cooperation Organization (SCO) and the newly launched Asian Infrastructure Investment Bank (AIIB).
"At the moment, we are at a high point in the development of Russian-Chinese relations," Medvedev said in Wuzhen during his meeting with Xi.
He will co-chair the 20th joint Sino-Russian Cabinet meet with his Chinese counterpart Li Keqiang on 16-17 December in Beijing.
Moscow is looking to increase trade and banking cooperation with Beijing, even as it battles extended rounds of sanctions imposed by the EU and US over the Ukraine crisis.
"We'll hold the 20th meeting of the Russian and Chinese heads of government, the main working mechanism in the framework of which many important and useful documents will be signed between our countries. They have been approved on the intergovernmental, interagency and corporate level," said a Russian government statement on Tuesday.
Earlier on Tuesday, Medvedev attended the 14th SCO prime ministers' meeting in Zhengzhou, central China's Henan Province where the regional bloc leaders signed crucial agreements on finance and trade within these borders.
In the last annual meet between Medvedev and his Chinese counterpart Li in Moscow in 2014, China announced a series of initiatives, including more that $4.5 billion of credit lines to Russian banks and companies.
This was part of the multi-billion dollar deals inked during Li's visit, including nuclear energy, finance, tourism, high-speed railways, apart from the agreement on gas deliveries to China via the eastern route.