South Africa hosted the Forum on Co-operation between China and Africa (Focac) for the period 2013-2018, from December 3 to 5, 2015, in Johannesburg under the theme "China-Africa Progressing Together: Win-Win Co-operation for Common Development".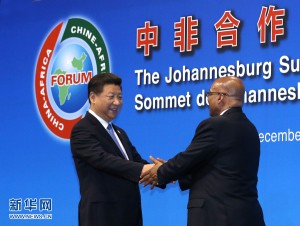 The summit is a platform for collective dialogue to consolidate Africa-China traditional friendship, deepen strategic collaboration as well as enhance the mechanism of practical co-operation between China and Africa.
The summit culminated in the adoption of the Johannesburg Declaration and the Johannesburg Action Plan towards 2018. The action plan reflects a shift by the Chinese towards implementation of projects that support regional integration on the continent rather than a focus on bilateral co-operation only.
The summit committed to support the African Union's Agenda 2063 vision. The Johannesburg Plan of Action focused on the political and economic co-operation, including social, cultural, security and international co-operation.
Co-operative partnership
In order to develop a comprehensive strategic and co-operative partnership between China and Africa, the Chinese President, Xi Jinping, announced the following 10 new co-operation plans between China and Africa over the next three years:
– China-Africa Industrialisation Plan: China will build or upgrade a number of industrial parks and set up regional vocational education centres and schools for capacity building. China will also train 200 000 technical personnel and provide 40 000 training opportunities for Africans in China.
– China-Africa Agriculture Modernisation: China will transfer readily applicable technologies to Africa and will encourage Chinese enterprises to engage in large-scale farming, animal husbandry as well as grain storage and processing in Africa to create jobs.
– China-Africa Infrastructure Plan: China will pursue mutually beneficial co-operation in infrastructure planning, design, construction, operation and maintenance, particularly in the sectors of railway, road, regional aviation, ports, electricity and telecommunications. China will also support the establishment of five transportation universities in Africa.
– China-Africa Financial Plan: China will expand the renminbi settlement and currency swop operations with African countries, encourage more Chinese institutions to set up branches in Africa, and increase investment and financing co-operation to provide support for Africa's industrialisation and modernisation.
– China-Africa Green Development Plan: China will support Africa in bolstering capacity for green, low-carbon and sustainable development in Africa, including support in launching 100 projects to develop clean energy, protect wildlife and build smart cities.
– China-Africa Trade and Investment Facilitation Plan: China will carry out 50 trade programmes to improve Africa's capacity for internal and external trade and investment. China is ready to negotiate free trade agreements with countries and regional organisations and increase the import of African products.
– China-Africa Poverty Reduction Plan: China will cancel outstanding debt in the form of zero-interest loans borrowed by least developed countries in Africa that mature at the end of 2015.
– China-Africa Public Health Plan: China will participate in the building of the African centre for disease control and support co-operation between 20 Chinese and African hospitals.
– China-Africa Cultural and People-People Exchange: China will build five cultural centres in Africa and provide satellite reception to 10 000 African villages. China will also sponsor 2 000 educational opportunities with diplomas/degrees and 30 000 government scholarships.
– China-Africa Peace and Security Plan: China will provide $60 million (R865.64m) of grant to support the building and operation of the African Standby Force and the African capacity for the immediate response to crisis.
China will provide additional funding support to the implementation of the above plans: $5bn of grant and zero-interest loans, $35bn of loans of concessional nature on more favourable terms and export credit line, an increase of $5bn to the China-Africa Development Fund and the Special Loan for the development of African small and medium-sized enterprises, and the China-Africa Fund for Production Capacity Co-operation with the initial contribution of $10bn.
During the 2012/2013 period, the value of total trade between China and Africa increased by 6 percent from $198bn in 2012 to $210bn in 2013. The top twenty products imported by China from Africa in 2013 accounted for 96 percent of the total imports of China from all African countries, while the top five import products accounted for 82 percent of total African imports for the year. This clearly shows that trade was concentrated on a few products:
– The key imports of China from Africa in 2013 remain concentrated in natural resources – mineral products (58 percent), other unclassified goods as grouped under HS 98 (26 percent), base metals (6 percent) and precious stones and metals (5 percent).
However, China's main export products to Africa are mainly value-added manufacturing products including machinery (26 percent), transport equipment (10 percent), textiles and clothing (8 percent), footwear (4 percent) and plastic products (4 percent).
This emphasises the need for Africa to focus on industrial development and value-addition so as to change the structure of trade, not only with China, but all its trading partners.
The 26 agreements signed during Focac included those by government departments, state-owned enterprises such as Eskom, Transnet, Industrial Development Corporation, SA Space Agency, Trans Caledon Tunnel Authority, the South African Nuclear Energy Corporation and those signed with private sector firms such as Standard Bank, Investec and Naspers amongst others, with an all inclusive package of $94bn. This is a clear demonstration that indeed Africa is rising.
The African leadership is more convinced that the signed agreements represent a win-win deal and will further strengthen the continent in its quest to re-industrialise. The deal is favourable when compared with other packages offered by Western countries.
There is no intention from China to re-colonise Africa, and the leadership of the continent is fully aware of the importance of sovereignty of the continent.
There has been a concerted effort to change the structure of our trade relations with China so as to promote investment by China into Africa, especially in the productive sector of our economy, and promote exports of value-added products.