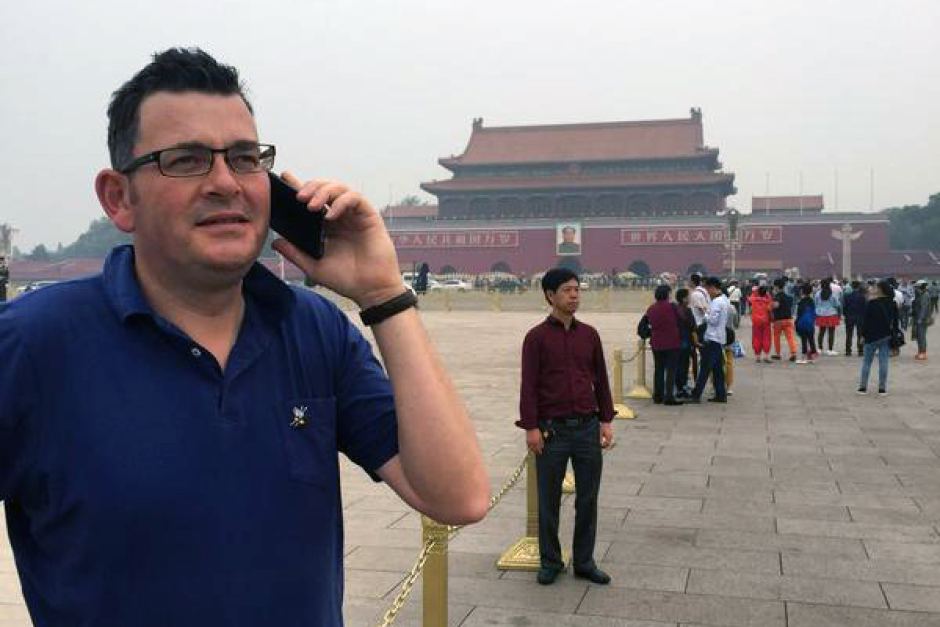 Around 200 jobs will be created in a deal between a local technology company and a Chinese partner to build solar power equipment, the Victorian Government says.
Victorian technology firm RayGen Resources has signed a deal with JuYe Solar to expand a manufacturing facility in Blackburn over five years.
The new factory will produce receivers for concentrated solar photovoltaic systems to be sold to the state-run China Three Gorges New Energy Company (TGNEC).
RayGen's chief executive Robert Cart said while the initial $2.5 million investment was modest, it would allow the small tech start-up to commercialise its research and development.
From a manufacturing perspective [our Chinese partners] will manufacture a large percentage of the total product," he said.
"The part that we make is just the key high-tech component – the actual device that turns the sunlight to electricity, and we provide the software.
"By legal contract, they have certain rights, but they're limited and they must buy from us these key components … and because they are our licensee, they are very interested and motivated to protect our IP in China."
Premier Daniel Andrews, who is in China this week, said he was hopeful it would be a long-term deal.
"This is the best technology in terms of solar panels that we've seen for a long time. It's innovative and this is a small deal today but it has a wonderful potential to grow over time," he told 774 ABC Melbourne.
Mr Andrews has insisted all Victorian Government ministers should visit China once a year as part of the state's strategy to grow trade relations.
"We have basically $20 billion worth of two-way trade between Victoria and China," he said.
"We've got the best part of 50,000 international students in Melbourne from a Chinese background and about 450,000 Chinese visitors each and every year.
"We want to see all of those numbers go up, because if they do, that means new jobs."
Capitalising on changing Chinese economy
Economist Saul Eslake said Victoria should be able to capitalise with the changing Chinese economy.
"China's economy is clearly slowing … but possibly of more importance to Australia, and particularly Victoria, is the way in which the mix of growth within China is changing away from construction and exports that use lots of coal and iron ore, towards services and household construction," he said.
"[That] will potentially create more demands for things that Victoria is capable of producing at the same time as it's creating less demand for the sort of things that have created such wealth for Western Australia."
Mr Cart, originally from Silicon Valley, co-founded RayGen with Australian Dr John Lasich, who invented the solar technology, after receiving a grant from the Victorian Government in 2012.
"This is where the technology was, this is where we were developing, and that's why I moved and we made the company an Australian company and we haven't looked back since," Mr Cart said.
But he said Australia did not have a "great track record" in commercialising technology.
"To get this funding from China is unusual and a very key moment for our region … these are high-tech jobs, manufacturing jobs, that really show that Australia has the innovations and can find markets for export," Mr Cart said.
"This is an example of a Chinese company making an investment for the building of a manufacturing facility by an Australian company that will then manufacture and supply the products to China, and that's unusual.
"Usually China does the manufacturing and sells it to Australia, we tend to deliver resources primarily to China."
Andrews wished Abbott well in meeting
Meanwhile, Mr Andrews said he had met with new Prime Minister Malcolm Turnbull and ousted prime minister Tony Abbott last week.
"I had a cup of tea and a chat with Tony Abbott up in Canberra last Wednesday, for probably about half an hour," he said.
"It was the right thing to do, just to go and wish him all the best personally, to him and his family. It's a pretty tough time to have to go through."
Mr Andrews said he discussed transport funding with Mr Turnbull on the same day.
"It was a brief discussion but it was an important one — we talked about the fact that infrastructure needs to be funding on its merits, that the ideology of one form of transport being superior to another is just nonsense," he said.
"I was very pleased to see that sentiment basically reflected in comments the Prime Minister made on Sunday, when he announced a reshuffle just before I headed off to China."
The Premier said he was "very encouraged" by the language Mr Turnbull had been using about cities and infrastructure.
"That's exactly the way it should be, that, dare I say it, is the sort of national leadership that we've not had from the Federal Government for a couple of years now."