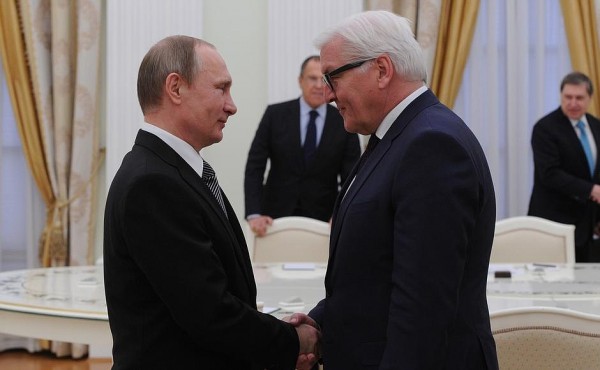 German Foreign Minister Frank-Walter Steinmeier on Tuesday hinted that the renewal of European Union sanctions against Moscow was not yet certain as many countries in the 28-member bloc have raised questions about its efficacy.
"The sanctions are there to ensure a political solution. I don't know what the European Council will decide on Russia sanctions," Steinmeier said.
Steinmeier's comments came weeks ahead of the EU meet that is expected to renew the sanctions against Russia. For sanctions to be extended beyond July, all 28 EU members would have to be in agreement.
The sanctions were imposed following Crimea, an erstwhile part of Ukraine, voting to join Russia in 2014.
Earlier on May 27, Germany's Federal Foreign Office spokesperson, speaking on behalf of Foreign Minister Frank-Walter Steinmeier, issued a statement saying that "sanctions are not an end in themselves but need to serve to provide an incentive for the political behaviour we would like to see".
"In the current situation this means that a demand for all or nothing will not bring us any closer to our goal. If substantial progress is made, the gradual reduction of sanctions must also be an option. This is one point on the agenda of the European debate that is just beginning," said the statement.
The German Foreign Minister had held talks with Russian President Vladimir Putin at the Kremlin on 23 March this year during which the two sides discussed "bilateral relations, Russia's relations with the European Union".
On Monday, Russian Foreign Minister Sergey Lavrov said Russia has no plans of recognising the self-proclaimed republics of Ukraine.
Moscow's move to recognize the self-proclaimed Donetsk and Lugansk People's Republics would be counterproductive as this would give the West a pretext to stop pressure on Kiev on implementing the Minsk peace deal, Lavrov said in an interview with Komsomolskaya Pravda website.
"I'm convinced that this will be counterproductive," Lavrov said, stressing that it is very important that the documents signed in Minsk are implemented.
During a state visit by Russian President Vladimir Putin, Greek Prime Minister Alexis Tsipras has criticised the West's "vicious circle of militarization, of Cold War rhetoric and of sanctions".
"We have repeatedly said that the vicious circle of militarisation, of Cold War rhetoric and of sanctions is not productive. The solution is dialogue," Tsipras said in a press conference following talks with Putin on Saturday.
"Everyone recognises that there cannot exist a future for the European continent with the European Union and Russia at loggerheads," he added.
Earlier in January this year, French Finance Minister Emmanuel Macron also said that France is not keen on the EU extending sanctions against Russia beyond July.
"The objective we all share is to be able to lift sanctions next summer because the process has been respected," he told Le Figaro.