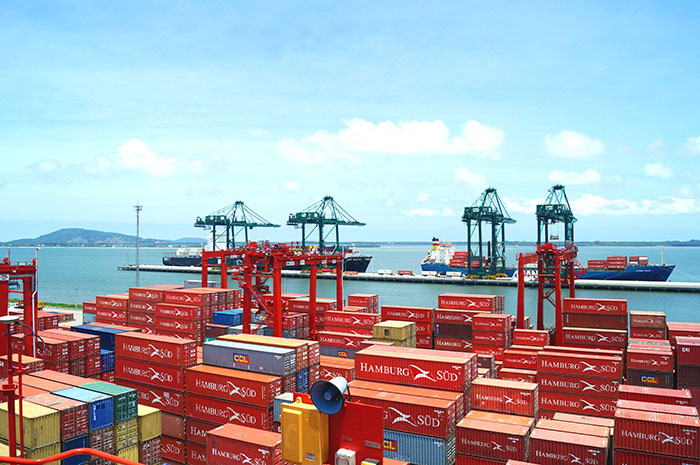 A 10 percent increase in traffic at Itapoá port to 512,000 twenty-foot-equivalent units driven by a 25 percent surge in chicken exports to 41,200 containers in 2015 has left Itapoá in dire need of new equipment and more capacity.
Brazilian shippers, particularly the major chicken exporters of BR Foods, Marfrig and JBS, will be pleased to hear that two new ship-to-shore gantry carnes and seven new rubber-tire gantry cranes, have recently been unloaded at the port and are due to be operational before the first quarter is over.
The new equipment cost in the neighborhood of $18 to $25 million, bringing total investment in the four-year-old port, which is 70 percent owned by Grupo Batistella with its partner LogZ and 30 percent owned by the Hamburg Sud group, to roughly $280 million.
Itapoá is situated on Babitonga Bay just 50 miles from the industrial city of Joinville and Araquari, where BMW has a plant, and 160 miles from Florianopolis, the Santa Catarina state capital.
The box terminal currently has a draft between 13 and 14 meters (42.6 to 46 feet), but hopes to dredge to 15 meters. When inaugurated in May 2012, Itapoá had four ship-to-shore gantries and 11 RTGs, a container yard of 136,000 square meters and an annual capacity of 500,000 TEUs, but with the new equipment and additional yard area, that has risen to more than 1 million TEUs and ownership believes the port could eventually handle more than 2 million TEUs annually.
These improvements have already enticed a number of poultry exporters away from Itajai and other ports to Itapoá, where average handling charges have fallen by at least 20 percent over the past two years, pleasing shippers.
Nearly all the East Coast of South America services of Hamburg Sud and its Brazilian flag subsidiary Alianca Navegacao now call at Itapoá, but the German company did switch a large percentage of its transshipment boxes to Santos in the middle of 2014, because of cheaper box handling rates available there. At the time, Porto Itapoá's management said the move freed up more space for exports, which paid more per move than transshipment.
Porto Itapoá's president Patrício Junior said the acquisition of the new equipment will bring "greater operational quality and efficiency to shippers," and help them keep exporters happy in the face of intense competition.
Today shippers can choose from four other box facilities in the state of Santa Catarina — Portonave, APM Terminal Itajai, Sao Francisco do Sul and Imbituba — and they can also use TCP in the neighboring state of Parana.
"We are in a highly competitive market, and for us to stand out, we need to offer the market the best possible service," said Junior. "We have Babitonga Bay as a major asset, a highly qualified team, and now our operational capacity in terms of equipment is complete for this phase of operations at Porto Itapoá."