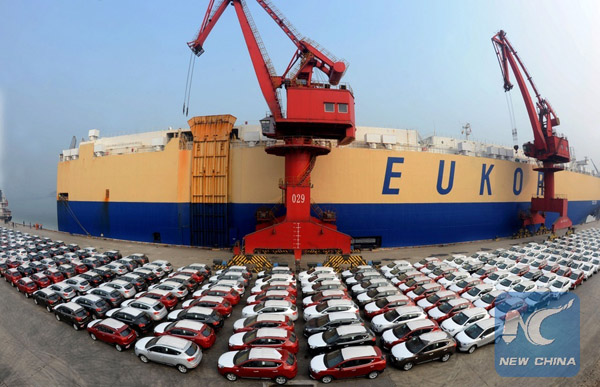 China recorded weaker growth momentum in exports and an accelerated decrease in imports in April, showing persistent pressure on the economy due to feeble domestic and external demand.
China's exports in yuan-denominated terms rose 4.1 percent year on year in April, while imports dipped 5.7 percent, the General Administration of Customs (GAC) said Sunday.
Export growth in April was milder than the 18.7-percent increase in March, while imports fell at a faster pace compared with the 1.7-percent drop in the previous month.
China's exports remained positive but continued to be affected by weak global demand, said Bloomberg chief Asia economist Tom Orlik.
Another drop in imports was a surprise, as firmer commodity prices and a weaker yuan should have buoyed the figure, Orlik wrote in an analysis note.
HSBC chief China economist Qu Hongbin said the import drop in April was steeper than expected. Qu viewed it as evidence of a shaky recovery in domestic demand.
Meanwhile, slower export growth showed external demand will remain subdued in the short term, he said.
In the January-April period, exports dropped 2.1 percent year on year while imports went down 7.5 percent, leading to a trade surplus of 1.11 trillion yuan, widening 16.5 percent from a year earlier.
Foreign trade edged down 0.3 percent year on year to 1.95 trillion yuan last month, while foreign trade for the first four months combined slipped 4.4 percent to 7.17 trillion yuan.
"A run of lackluster data shows the economy holding steady at the start of the second quarter, but failing to maintain the momentum evident at the end of the first quarter," Orlik said.
The tepid trade data were in line with a drop in the country's manufacturing activity indicator. China's purchasing managers' index came in at 50.1 in April, down slightly from 50.2 in March, an official survey showed earlier this month.
China's economy expanded 6.7 percent year on year in the first quarter of 2016, the slowest growth since the global financial crisis hit in early 2009. But a slew of upbeat economic data in March raised hopes for a stronger turnaround than expected.
Orlik said policy makers will likely remain in wait-and-see mode before deciding on further stimulus.
One option for China to bolster export growth is to let the yuan depreciate more significantly, but that would likely trigger competitive devaluations by trade rivals and risk more capital flight, Orlik said.
"China will have to wait for a combination of stronger global demand and the slow process of upgrading its manufacturing base to restore vitality to exports," he noted.
The Chinese yuan is now down about 8 percent against a basket of currencies from its peak in August last year, according to a Bloomberg estimate.
On a brighter note, the GAC said a leading index for the country's exports rose 2.2 points to 33.8 in April, with sub-indices for new export orders and managers' confidence both up from March, signaling smaller pressure on export growth in the second quarter.
Exports to the European Union, China's largest trade partner, climbed 1.3 percent year on year in the first four months, the GAC data showed.
In the same period, exports to the United States and the Association for Southeast Asian Nations, China's second- and third-largest trade partners respectively, both declined 3.5 percent.
Imports of iron ore, crude oil and copper posted strong increases in the four months, up 6.1 percent, 11.8 percent and 23.1 percent respectively. But imports of coal, steel and refined oil fell.