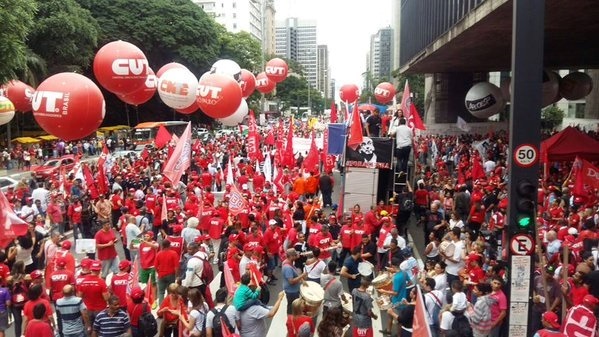 Ahead of a vote by Supreme Court justices on whether impeachment proceedings against Brazilian President Dilma Rousseff are legal, protests against the impeachment broke out in major Brazilian cities on Wednesday, organized by the country's main unions, as well as NGOs and political parties.
The Unified Workers'Central (CUT) teamed up with the National Union of Students (UNE) as well as other groups to organize the rallies that chanted "There will be no coup".
A controversial secret congressional vote that stacked an impeachment committee with opponents of President Dilma Rousseff was found legitimate on Wednesday by the Supreme Court justice who suspended proceedings against her last week.
According to Vagner Freitas, president of the CUT, protests took place in 70 cities "in defense of democracy, to fight against corruption and to support Rousseff" who is now facing impeachment proceedings.
"This is a civic act, an act in defence of democracy, citizenship and liberty," he affirmed, adding that this was the first time that all the country's unions and social movements had united since 1992, when the former president Fernando Collor de Mello faced impeachment.
"Every time democracy and labor rights are at risk, the unions…play their role by coming together and defending their rights," explained Freitas.
The protests came three days after smaller pro-impeachment ones, and on the same day as the Brazilian Supreme Court would meet to determine the rules governing the impeachment process.
If the Supreme Court judges vote unanimously to find the impeachment committee legal, the Senate will have to open an impeachment trial right after the house approves the charges.
"They will not achieve anything by attacking my record, which is known; I love my country and I'm honest. I will fight against the illegitimate interruption of my mandate using all the tools that the rule of law gives me," President Rousseff said at an event in Brasilia on Wednesday.
A move to trial would suspend Rousseff for up to six months, with Vice President Michel Temer taking over as Senators debate to remove her permanently or clear her, returning her to office.
Earlier this month, Eduardo Cunha, president of the Chamber of Deputies, the lower house of the National Congress, authorized impeachment proceedings against President Dilma Rousseff for her alleged involvement in a multi-billion dollar corruption scandal that has shaken her party.
A corruption scandal at Brazil's state oil giant Petrobras, has implicated politicians in Rousseff's party, although not the president herself.
Late on Wednesday, federal prosecutors, who have charged Cunha with taking bribes, asked the Supreme Court to order him to step down from his position as speaker.
Brazil's state oil giant Petrobras estimates it paid out some 6 billion reals ($1.6 billion) in illegal "commissions" as part of a corruption scheme that operated for years.