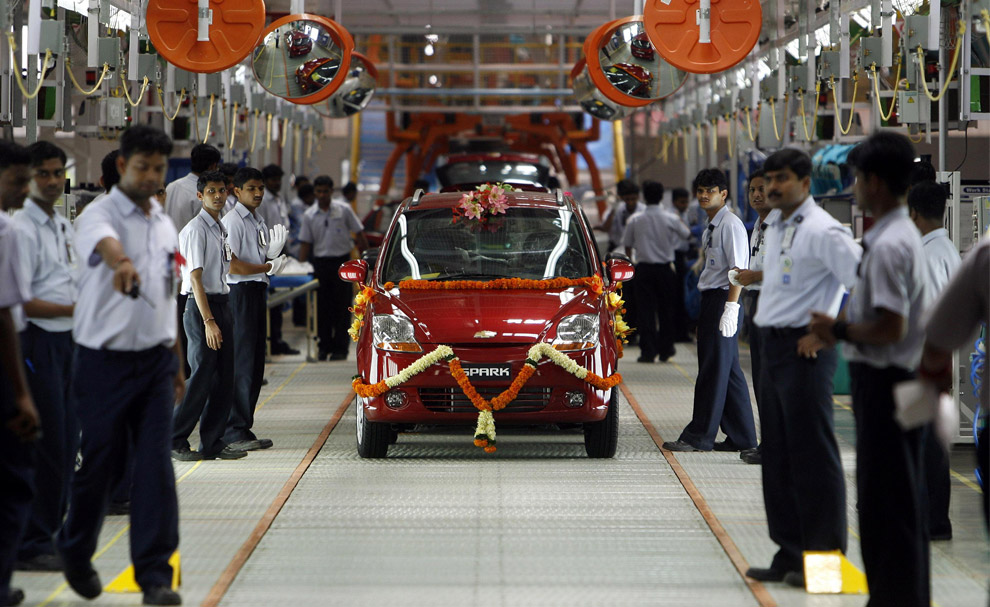 After US car major General Motors' Indian subsidiary decided to shut down its Halol manufacturing site in Gujarat by 2016, it had indicated that the company might look for buyers for its manufacturing site. Sources close to the development said GM India was close to working out a deal with its joint venture partner in China, Shanghai Automotive Industry Corp (SAIC).
A GM India spokesperson said in an e-mail response, "We are not in a position to respond to speculation. However, we can say that at the time GM India announced that production would cease at Halol by July 2016, we said we would explore a number of options for the future of the site, including the possible sale to another operator."
A senior official in the Gujarat government confirmed the development and said GM India had sought an appointment with Chief Minister Anandiben Patel and had indicated it would be bringing along representatives of SAIC. The meeting is scheduled in a few days.
Asked if tax incentives could be extended to SAIC if the deal worked out, the official said it was too early to comment. Industry sources indicated that the valuation of the assets would be Rs 1,400-1,500 crore, and that the deal size could be around that much. GM India has invested close to Rs 1,200 crore in setting up the Halol plant and subsequent expansions.
"SAIC and GM India would lobby for fiscal incentives from the Gujarat government, and in case the government does not allow the same, it would definitely affect the deal size. The Gujarat government has already shelled out Rs 800 crore in the form of incentives to GM India," said a source. He added state governments usually do not give in easily for closure applications, especially if they have dolled out incentives, and hence the plan to sell the assets.
Earlier, GM India had indicated it would be closing its Halol unit by June 2016. This came at a time when GM announced an investment of $1 billion in India to strengthen its market share over the next five years. GM's Chief Executive Officer Mary Barra had met Prime Minister Narendra Modi in Delhi and communicated the decision to invest $1 billion in India, which is expected to create 12,000 new jobs for GM India and its suppliers. GM India has plans to roll out 10 new locally produced Chevrolet models by 2020.
SAIC is GM's joint venture partner in China. SAIC had reported revenues worth 323.6 billion yuan ($51.07 billion) in the first half of 2015 and net profits of 14.2 billion yuan, which were up 4.36 per cent on a year-on-year basis, noted a statement on the company's website.
SAIC sold 2.86 million cars in the period, with the home market contributing 23.4 per cent. It had sold 5.62 million cars in 2014.
"Internationally, the company has been expanding its presence and shifting focus from exports to overseas operations, with plans to gradually move production facilities and sales networks around the world. Its vision is to become a world-famous auto company with global presence, international competitiveness, and brand influence," the company said on its website.
GM has an installed capacity of 110,000 vehicles per annum at the Halol site. It has invested close to $1 billion in India since 1996 combining its two manufacturing sites, Halol and Talegaon. The company used to produce the Tavera, Cruze and Enjoy at Halol and had been practising production discipline for a while. Workers were communicated of the decision related to the closure.
In the communication the workers received from plant manager S K Garg in July, the company had said it was considering several options for the future of the Halol plant. These include selling of the plant and other arrangements.
Nihil Mehta, president of the Gujarat wing of the Indian National Trade Union Congress confirmed that talks with China's SAIC were in advanced stages.
He, however, noted that whatever deal was worked out, the state government should protect the workers' interests.