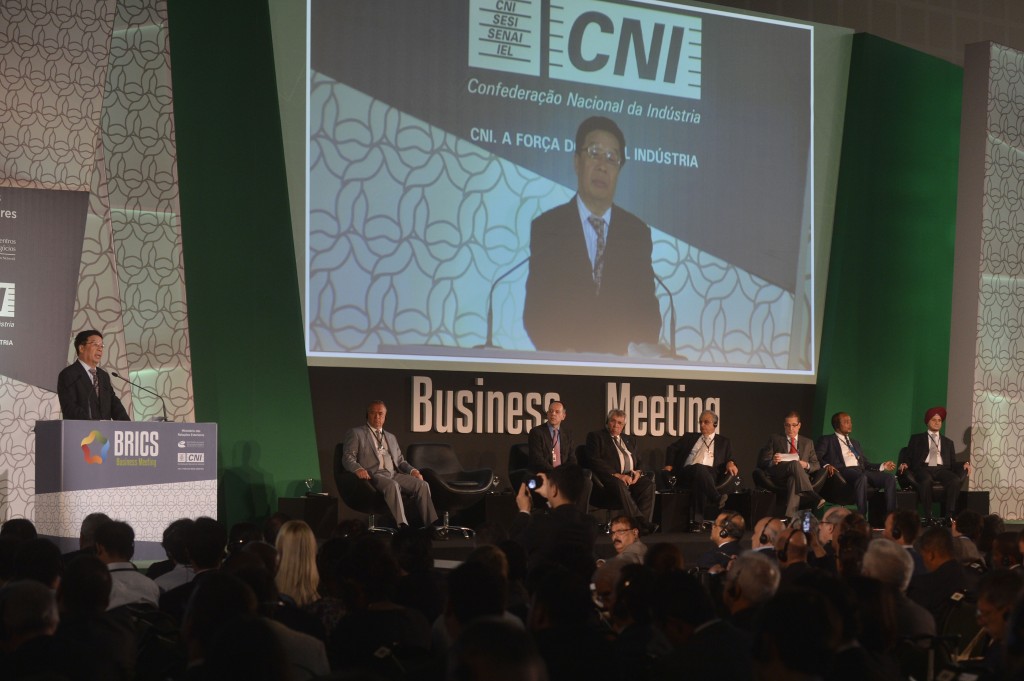 Dear Chairman Rubens de la Rosa,
Dear Co-Chairs of BRICS Business Council,
Ladies and Gentlemen,
It is a great pleasure and honor for me to speak here. First, I would like to thank the Brazil BRICS Business Council for organizing this great event. I believe that with the participation of all the distinguished guests here, this Forum will be both successful and fruitful.
Today, I want to highlight three key elements that we need in further promoting the common understanding and practical cooperation among BRICS business communities.
First, vitality. BRICS companies need vitality, embracing adventure and innovation. We should not only focus on the traditional resource-intensive industries, but also bravely explore opportunities in the emerging industries such as renewable energy, value adding manufacturing, and IT technology. At the same time, we should also innovate the form of cooperation, such as creating Public and Private Partnerships among BRICS countries.
Second, unity. Unity is very important for BRICS business communities especially at this point of time when major changes and uncertainties in global economy presents great difficulties to us. The BRICS economies are growing slower, which gives rise to the voice that the luster of BRICS countries is fading away.
The best way of fighting against this voice is to keep unified, unyielding to any difficulties. To this end, we should first boost mutual trust, eliminate differences through close communications, making full use of platforms such as the BRICS Business Council, BRICS Business Portal, and forums like this. Second, we should consider BRICS companies when trying to find a business partner. Many BRICS companies are able to provide equally good products and services as those in the rest of the world. Now that we are in the same boat, let's row in the same direction confidently and coordinately.
Third, vision. The BRICS business community needs a clear vision, in order to drive the cooperation in a sustainable way.
Frankly speaking, we have differences in many areas. But we become the BRICS because we have much more in common. We share the same vision of sustainable growth and higher living standard of our people.
As the Chairman of China BRICS Business Council, I have witness the aspiration for cooperation among the BRICS business communities. We have either great competence or huge demand in the fields such as:
1. Infrastructure development;
2. Logistics and connectivity among BRICS Countries;
3. Harmonization of certain technical standards.
4. BRICS-developed information security system.
5. Technology exchange and transfer among BRICS countries.
Therefore, as we do business with BRICS counterparts, don't be blinded by the temporary barriers and obstacles. Let's keep in mind why we are together and what is ahead for us.
This time marks the Sixth BRICS Summit. Looking at the history of BRICS cooperation, we clearly observe that it is becoming more and more practical. The Governments have outlined the framework for us, it is the business communities who should build the mansion brick by brick. China BRICS Business Council will continue to be committed to bridging Chinese companies with those in other BRICS countries, serving the common interests of the BRICS business communities.
I hope that all BRICS companies will strive for excellence, building specific partnerships in the next year. China business community will firmly support Brazil BRICS Business Council as we did to South African counterparts last year.
Finally, I wish this forum a complete success.
Thank you!