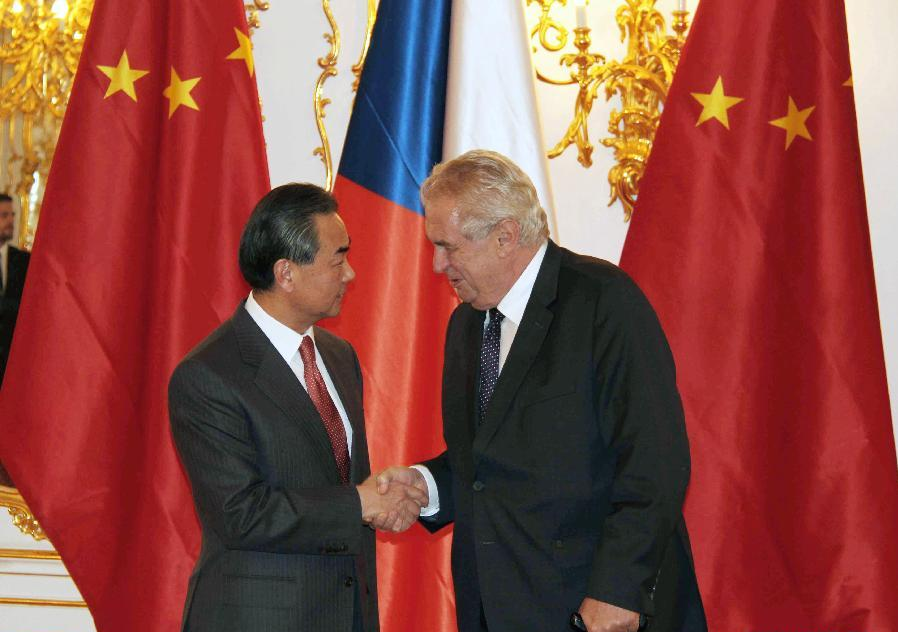 The two countries maintained exchanges at all levels.
According to the communique, both sides respect each other's development path, domestic and foreign policies adapt to their own national conditions, reiterating the principle of non-interference in internal affairs.
Chinese Foreign Minister Wang Yi, while visiting Czech Republic, said that with a new beginning in bilateral ties, the two countries should expand exchanges at all levels.
President Xi Jinping and President Milos Zeman met in the Russian resort city Sochi, Wang said, stressing the Chinese side is willing to implement the consensus between the two leaders to deepen bilateral cooperation on the basis of mutual respect, equality and taking care of each other's core interests and major concerns.
Wang Yi noted that both sides have taken different paths to development, cultural exchanges still cement the two peoples. China will vigorously promote a multi-level and comprehensive cooperation with the Czech Republic and make two peoples enjoy the benefits of cultural exchanges.
Czech side hailed the profound traditional friendship between both countries and praised the progress made in political, cultural, economic, scientific and technological cooperation. And they wished that cultural exchanges can continue to deepen the mutual understanding and friendship between the two peoples.
Wen Yi expressed the belief that as long as the two countries proceed from a long-term point of view and join efforts to develop bilateral relations, they will surely achieve greater and quicker progress in this regard.
He also expressed the wish that the two countries should maintain the current momentum of high-level visits, encourage their own companies to have direct contact and expand mutually beneficial cooperation in such fields as trade, investment and environmental protection. The two countries should strengthen exchanges in culture and other areas so as to deepen mutual understanding and friendship, he said.
Milos Zeman said Czech is ready to strengthen high-level communications with China and continue to expand cooperation with China in areas of trade, economy, investment, power industry and automobile manufacturing. He said Czech also wishes to enhance bilateral exchanges on culture and sports.
The cooperation and exchanges have helped promote economic and social development of the two countries and further consolidate the foundation of bilateral relations, Milos Zeman said.