On June 5-6, 2017, the Municipal Government of Tianjin, Bank of China and BRICS Business Council co-organized the "2017 Tianjin (China) and BRICS High-tech SME Cross-border Investment and Trade Cooperation Conference".
Secretary of the Tianjin Municipal Committee of the Communist Party of China Mr. Li Hongzhong, mayor of the Tianjin Municipal Government Mr. Wang Dongfeng, member of Chinese Chapter of BRICS Business Council and chairman of Bank of China Mr. Tian Guoli, member of South African Chapter of BRICS Business Council Dr. Danisa Baloyi, and vice president of Bank of China Liu Qiang attended the opening ceremony of the conference.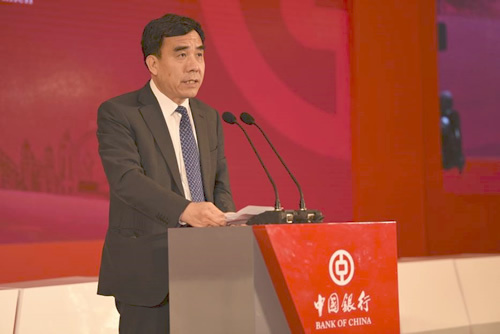 Mr. Tian Guoli delivered a keynote speech. He said that Bank of China has been vigorously promoting the development of SMEs with a strong sense of responsibility and mission. By fully leveraging on its global service network covering 52 countries and regions, BOC has launched the "SME cross-border matchmaking services" since 2014, and established a platform of connectivity for the world's SMEs through the power of finance, thus offering small businesses a "big arena" and enabling them to release "great energy". He also mentioned that China has assumed the rotating presidency of BRICS Cooperation Mechanism this year, and BOC is a member of Chinese chapter of BRICS Business Council. Therefore, China would work together with the other four BRICS countries to launch this event for the purpose of designing a "BRICS cooperation" business card for Tianjin.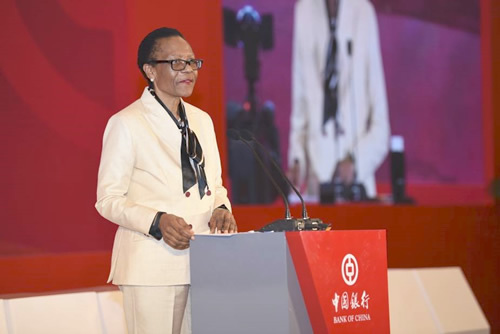 Dr. Danisa Baloyi said that China and South Africa has maintained a long history of friendship and that China supported South Africa in the struggle for freedom. Nowadays, South Africa highly approved and has benefited from the support for the development of SMEs by Chinese government. She hoped that more and more Chinese businesses would seek win-win strategy and establish partnership with African businesses. She truly believed that this conference would mark an important step for building up SME financial services platform amongst BRICS countries as a key agenda, advance efforts of meeting the equity and bond financing needs of SMEs and the sharing of the policy advantages of Tianjin's investment loan linkage.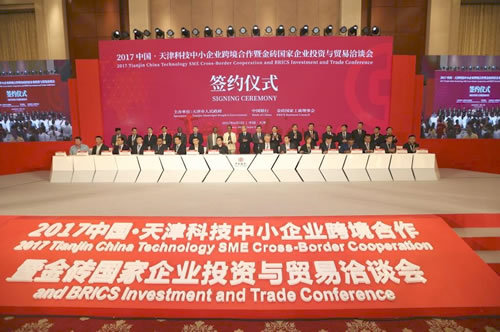 After the opening ceremony, Mr. Li Hongzhong, Mr. Wang Dongfeng, Mr. Tian Guoli and Dr. Danisa Baloyi jointly participated in the signing ceremony, bearing the witness of 8 Tianjin businesses reaching consensus on cooperation with the help of cross-border matchmaking services offered by Bank of China.
The conference attracted about 570 businesses from 21 countries, including Brazil, Russia, India, China and South Africa. Businesses came from diverse industries such as new energy, new materials, high-end equipment manufacturing, biopharmaceuticals, electronic information technology, petrochemicals as well as traditional industries, namely, fishery, agriculture and light textiles. Business succeeded in finding the partners through one-to-one negotiation and study and audio links with businesses abroad. To better promote the dialogue, financial, legal, accounting, consulting and translating services are provided at the conference.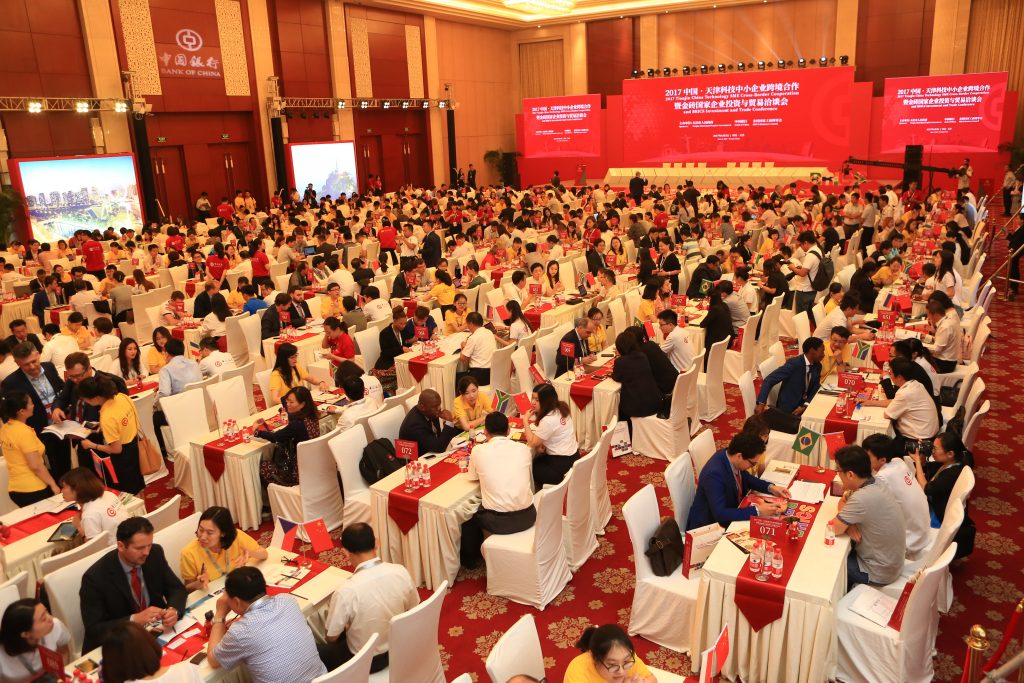 As one of the 8 core deliverables of the BRICS Business Council during China's presidency this year, the conference deepens the cooperation among BRICS SMEs, helps them to be integrated in the global value chain and to benefit from the global resources, and therefore contributes to the promotion of BRICS images in the global arena.