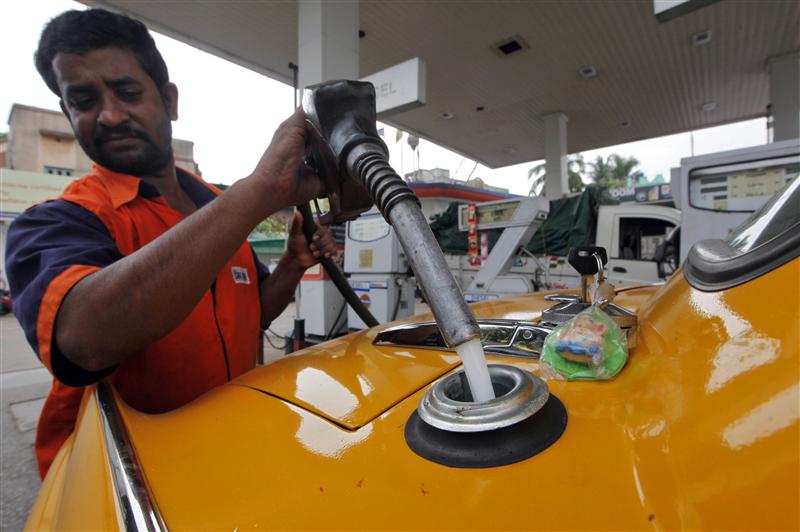 India's busy fuel depots are providing another piece of evidence that Asia's third-biggest economy is starting to move faster in bridging the vast gap with a slowing China.
Oil product consumption in India expanded at the fastest pace in a decade in October as petrol prices fell amid a global commodity slump. The data gives credence to revamped official gross domestic product figures that made India the world's fastest growing major economy this year.
"There is no doubt of a pickup in the economy, and that's fueling India's oil demand,'' said Amrita Sen, a London-based analyst with Energy Aspects Ltd. who holds an economics degree from Cambridge University. "This is a clear indication that India's middle class is going out and spending."
India's economy probably grew 7.3 percent from a year earlier in the three months through September, according to a Bloomberg survey ahead of Monday's data release. That would mark three straight quarters of growth topping 7 percent. China's gross domestic product — five times bigger than India's — expanded 6.9 percent in that quarter, the slowest pace since 2009.
■Most Confident Consumers
The oil data also bolsters the case that India's consumers will help drive growth as investment and exports struggle. The world's most confident consumers helped India's passenger car sales jump the most in almost two years in October.
Soon the country's 1.3 billion people might have even more cash. Prime Minister Narendra Modi's administration is weighing a recommendation to raise the pay of government workers by 24 percent, the first increase in a decade.
In the best-case scenario, that windfall combined with low inflation could lead to a demand boost that jump-starts a "painfully slow" investment revival, HSBC Holdings Plc analysts led by Pranjul Bhandari wrote in a Nov. 23 note.
"Much of this rests in the hands of the government," Bhandari wrote. "If it can absorb wage hikes without compromising on its fiscal consolidation or capex targets, the consumption boost could herald a period of higher and sustainable growth."
■Economic Weakness
That's a big question mark. The wage increases along with increased economic stimulus spending will make it harder for Modi's government to meet its fiscal targets, Fitch Ratings said this month.
Other indicators show softness in the economy. Credit growth remains near a 20-year low, while overseas shipments declined for the 11th straight month in October as lower crude prices hurt petroleum exports.
Consumers, though, have been a bright spot.
Higher consumption of oil products will continue through March 2017 driven by "recent policy reforms and a consequent pickup in investment," according to the Oil Ministry's Petroleum Planning & Analysis Cell. Fuel consumption touched a five-month high in October, led by diesel and gasoline sales, according to data published by the body.
■'Unsaturated Demand'
Consumption of diesel, which comprises about 42 percent of India's overall petroleum-fuel use, rose on a pickup in construction activities and strong sales of commercial vehicles. India's infrastructure output in September grew at its fastest pace in four months to 3.2 percent.
Quarterly growth numbers should signal a recovery in manufacturing, said Shubhada Rao, chief economist at YES Bank in Mumbai. "The trend in capital goods has been quite encouraging as reflected in the infrastructure data."
Reserve Bank of India Governor Raghuram Rajan has cut the benchmark interest rate by 125 basis points this year in a bid to help spur flagging investment. Economists expect him to keep the rate at 6.75 percent next week.
"Higher consumption is coming from two sides — a sustained fall in inflation and the monetary transmission from April following RBI's rate cuts," said Devendra Kumar Pant, chief economist at New Delhi-based India Ratings and Research Pvt., the local unit of Fitch Ratings. "There's a lot of unsaturated demand in everything, be it fuels or anything else."