Russian State Duma (the lower house of parliament) Speaker Vyacheslav Volodin has invited India's Vice President and Rajya Sabha (the upper house of parliament) Chairman Venkaiah Nadu to make an official visit to Russia.
Volodin stressed at a meeting with Naidu that India remained Russia's special strategic partner. "Come to Russia so we can continue dialogue," he said, addressing the Indian vice president.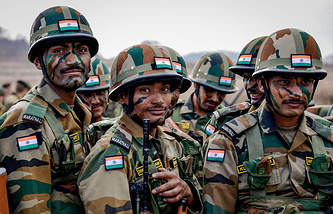 Venkaiah Naidu, in turn, said that cooperation between the two countries was developing in various areas, including those related to electoral processes. He invited Russian observers to monitor the Indian parliamentary election scheduled to take place in 2019.
Naidu pointed out that Indian observers had monitored the previous State Duma election and added that the Indian authorities paid much attention to relations with Russia.
In particular, he welcomed the Indian-Russian summit held in New Delhi. According to Naidu, India and Russia have similar approaches at international platforms, such as the United Nations, BRICS, the G20 group and the Shanghai Cooperation Organization (SCO).
Volodin is heading a Russian parliamentary delegation to India at the invitation of Lok Sabha (India's lower house of parliament) Speaker Sumitra Mahajan. The State Duma speaker held a meeting with Indian Prime Minister Narendra Modi earlier on Monday. The fifth session of the Russian-Indian inter-parliamentary commission is expected to be held later in the day.