The South African economy expanded by a real 1.7 per cent quarter on quarter (q/q) at a seasonally adjusted annualised basis in the third quarter 2015 if measured on the expenditure basis the South African Reserve Bank (SARB) said in its latest Quarterly Bulletin. This is more than double the 0.7 per cent gain as estimated by Statistics South Africa (Stats SA) on a production basis.
The difference between the two estimates is called the residual and was equivalent to 0.4 percentage points (ppt) of gross domestic product (GDP) in 2014, but in the past few years the residual has increased tenfold as a measure of GDP from only 0.24 per cent in the first quarter 2012 to 2.4 per cent in the third quarter 2015.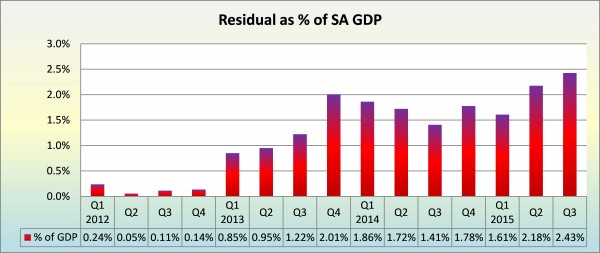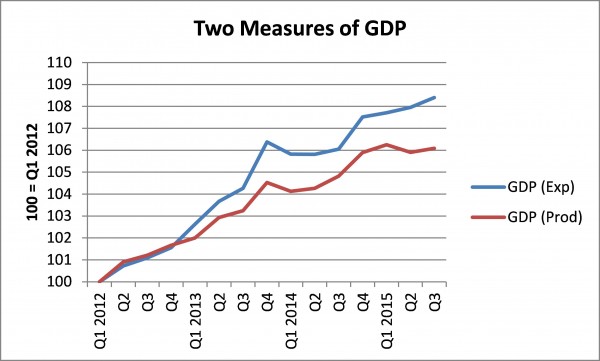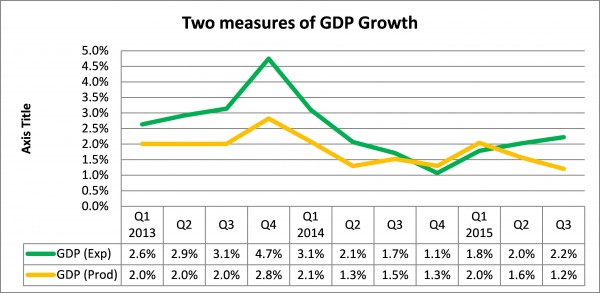 The differences between the two measures are not trivial. If one uses the GDP production measure, then one sees a stagnant economy with slowing GDP growth. If one uses the GDP expenditure measure, then the economic growth bottomed in the fourth quarter 2014 and since then growth has been accelerating from only 1.1 per cent year-on-year (y/y) in the fourth quarter 2014 to 2.2 per cent y/y in the third quarter 2015.
Most economists, including those at Treasury, use expenditure measures to forecast GDP growth, while the official GDP growth is that provided by Stats SA.
Finance Minister Nhlanhla Nene singled out electricity shortages – partly blamed on mismanagement at Eskom – as a "binding constraint" on GDP growth, forecast at an anaemic 2 percent this year.