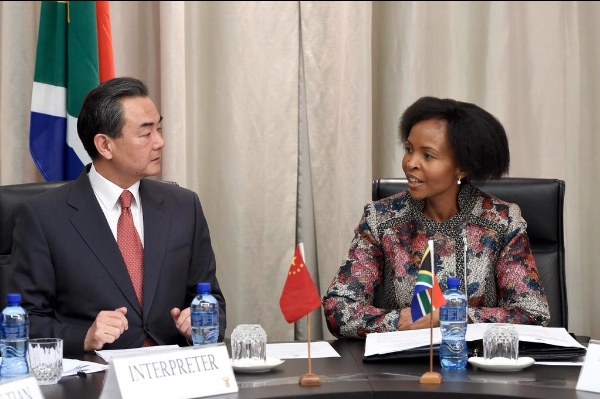 South Africa is ready to host the Forum on China-Africa Cooperation (FOCAC) Summit, officials at the Inter-Ministerial Committee (IMC) said.
"Consultations with the co-host, the Chinese Govt, as well as the African member states, continue to take place through diplomatic channels. Logistical and substance preparations are at an advanced stage," an IMC statement said.
"The IMC expressed confidence that the Summit will succeed in its objective to elevate Africa-China relations and ensure mutual benefit & growth, which will result in the betterment of the lives of the peoples of Africa and China," it added.
Chinese President Xi Jinping and African heads of state and government, representatives from the African Union and other regional organizations will attend the event.
The FOCAC, upgraded this year into a summit, will take place during December 4-5. For South Africa, the hosting of the sixth Forum for FOCAC promises to be a major event on the diplomatic calendar.
Beijing's relations with South Africa have flourished in the past decade with massive Chinese investment across the country and the African continent.
South Africa-China trade jumped by 32 per cent between 2012 from R205 billion to R270 billion in 2013, making China the country's largest trading partner.
Launched in 2000 by China and African countries, FOCAC has become an integral platform to enhance trade and cooperation between the two sides.
The summit this year is expected to adopt a declaration and action plan outlining measures aimed at consolidating China-Africa relations.
"China has consistently doubled its financing commitment to Africa during the past three FOCAC meetings — from $5 billion in 2006 to $10 billion in 2009 and $20 billion in 2012," South African Deputy President Cyril Ramaphosa said in July this year.
South Africa through its partnership with China is joining in attempts by the BRICS bloc to upend the international order by fashioning a coalition to resist what these countries view as American arrogance.
"While the two countries are strikingly different in their cultural, political and socio-economic orientation, they are very close in the positions they take on key issues affecting mankind," South Africa's Foreign Minister Maite Nkoana-Mashabane said last year, referring to common positions on Syria, Palestine and Iraq.
South Africa, one of Africa's largest economies alongwith Nigeria, has become an increasingly important port of call for China as a gateway to the continent.