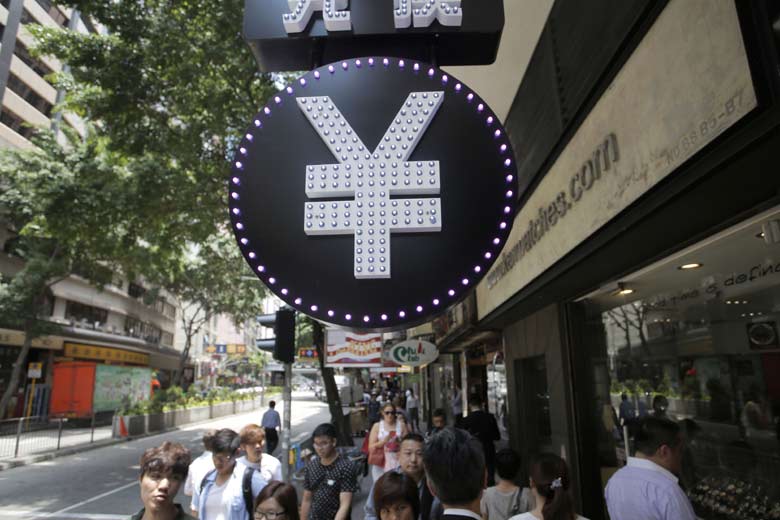 If there is ever going to be a fiat trade currency that packs serious competition against the dollar, this is it. The Chinese yuan is on the rise. According to Standard Chartered Bank, usage of the Chinese currency to settle trade accounts has expanded 21 fold over the last five years alone.
India stands out as a good indicator as to where this currency is heading. It's been a laggard, and still is, in terms of Chinese yuan adoption in Asia.
Look how much it has grown in India, however, a market still dominated by dollars.
In April 2016, 3.8% of all payments made between India and China, including Hong Kong, were settled in Chinese yuan. Two years ago, only 0.2% of trade was priced in the Chinese currency. Since 2014, the Chinese currency moved from the sixth most used to the fourth, overtaking the Hong Kong dollar and the British pound. The U.S. dollar accounts for 80% of India's foreign trade, followed by the Indian rupee (7.2%) and the euro (6.3%), according to SWIFT. The inter-bank settlement system has been active in promoting the internationalization of the yuan.
China is now India's largest trading partner, so it goes without saying that the yuan will replace the euro next, after sideswiping the old colonial masters currency, the British pound.
"Chinese renmimbi (RMB) adoption is slowly gaining traction for payments between India and China. Over time, and in line with the growing importance of this emerging trade corridor, we expect to see greater use of the RMB between these two countries," says Michael Moon, head of payments for Asia-Pacific at SWIFT. "The Indian banking community…(is) helping to further internationalize the RMB," Moon said in a press release on Thursday.
China's currency is officially called the renminbi. The yuan is the unit of account.