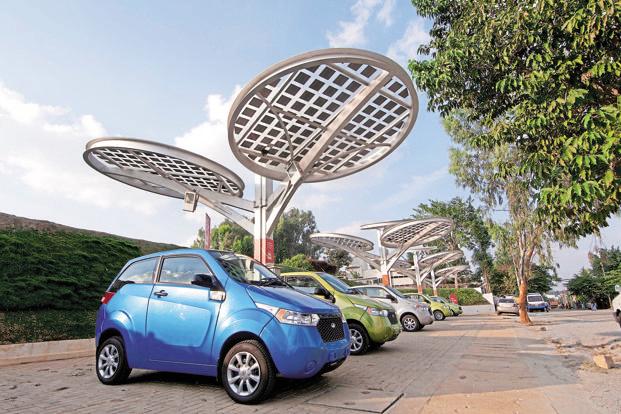 New Delhi: Solar power companies are looking at powering electric automobiles, seeking to develop an entirely new industry on greater policy support and lower costs for renewable energy.
Fortum India Ltd, a unit of Finnish renewable energy firm Fortum Oyj that brought solar tariffs in India to the lowest rate of Rs4.34 a unit, will open charging stations for electric cars in the next few years, India managing director Sanjay Aggarwal said.
Aggarwal said a boom in electric cars is around the corner as better batteries and large-scale production bring down car prices. Fortum is the market leader in Norway in managing charging stations. The country with five million people has 90,000 electric vehicles, he said.
"Just as solar power has surprised everyone and has now become a mainstream source of energy, there is a huge explosion in growth taking place in electric vehicles globally. India will not be isolated from it. We are trying to wet our feet," said Aggarwal.
On 15 June, Mint reported that Maruti Suzuki, Mahindra, Ford India, Mahindra Reva and Tata Motors have joined hands to develop a supplier base for critical hybrid and electric vehicle components. The government plans to put six million electric vehicles on the roads by 2020 and, together with the automobile industry, plans to invest Rs24,000 crore to promote such vehicles.
"There are a lot of activities happening around electric vehicles and the outcome of that is not yet seen," Pawan Goenka, executive director, Mahindra & Mahindra Ltd said, adding monthly four-wheeler electric vehicle sales is below 100 units. "Growth in demand for EVs has not happened yet," he said.
Goenka said his company believes the growth of EVs will happen more in the commercial space—for passenger movement and goods movement—than in the personal space, unlike the West where the demand is more in the personal space.
That must have attracted companies such as Fortum.
Aggarwal of Fortum said he has been holding discussions with car makers present in India, who have electric cars in other markets. Tesla Motors Inc., Nissan Motors Corp., General Motors Company and Mitsubishi Motors Corp. have electric cars. But the poor charging infrastructure remains a major stumbling block for success of electric vehicles in India and Fortum is seeking opportunities in the space.
Ketan Mehta, CEO of Rays Power Infrastructure, a solar power developer which has executed more than 100 mega watts (MW) of projects, said his company will diversify into selling electric scooters—initially by importing—and charging them.
"Electricity storage devices, which has so far not taken off in India, is the future. Electric two-wheelers will be in our market in a big way in about a year and a half. Electric cars will follow. A good electric sedan, which can run 250km per single charging, costs the equivalent of Rs.15 lakh in China," said Mehta.
"As usage picks up, more charging points will be needed. The key lies in how quickly we can build scale in both automobiles and in charging points," said Kalpana Jain, Senior Director, Deloitte in India.
In 2015-16, India sold 22,000 electric vehicles, 37.5% more than what it sold a year ago, according to Society of Manufacturers of Electric Vehicles (SMEV). Four wheelers accounted for only 2,000 of these, the remaining mostly being low-speed scooters, which do not require a registration or a licence to drive. One of the factors that has slowed down large scale adoption of electric vehicles is the lack of charging stations, which companies are seeking to address now.