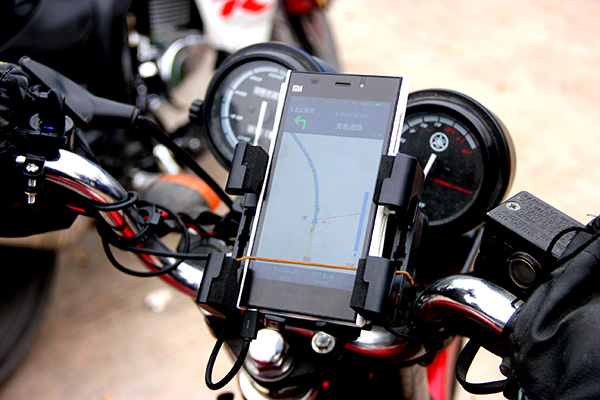 Fifteen years after the satellite system was launched, it is now generating $31.5 b for major companies
China's commercial eye in the sky is ready to produce solid down-to-earth profits for its customers.
Fifteen years after the Beidou satellite was launched, the GPS-like navigational system is helping to generate $31.5 billion for online clients such as China Aerospace Science and Industry Corp, AutoNavi Holdings Ltd, and China North Industries Group Corp.
Already 70 percent of China's population of nearly 1.4 billion use smartphones to search for popular locations, call taxis, work out travel arrangements and even jogging routes.
That is all made possible because of Beidou, which literally touches hundreds of millions of lives every day as it hovers more than 20,000 kilometers above the earth.
"The system will help create 200 billion yuan ($31.5 billion) in turnover for its customers this year," Miao Qianjun, secretary-general of the Global Navigation Satellite System and Location-based Services Association of China, or GLAC, said.
"It will be a good start for Beidou, which only launched commercial operations two years ago."
Work started on the system in 2000 with initial funding from the Ministry of Science and Technology. During the next decade, a network of satellites was rolled out laying the ground work for China's online expansion and e-commerce growth.
A regional system started to take shape three years ago, with the Beidou grid providing real-time navigational information in China and several other Asian countries, including Vietnam, Thailand the Cambodia.
By 2020, a constellation of 35 navigational satellites will come on stream.
"Beidou will be able to provide global coverage with positioning accuracy of less than 10 meters and a timing accuracy of 20 nanoseconds," a government report highlighted.
Annual turnover for China's satellite navigational market will reach 400 billion yuan by 2020, GLAC has estimated.
A key growth area will been navigational systems in commercial vehicles. A report released by the Ministry of Industry and Information Technology, or MIIT, showed that up to 20 percent of the 1 million commercial vehicles in China already use GPS products that access Beidou's technology.
Major logistics companies also tap into the network's system to track the movements of goods across the country with real-time sensors.
But there are still challenges ahead for China's home-grown commercial satellite chain.
In the MIIT report, it was revealed that Beidou still lags behind global positioning networks in the United States when it comes to GPS systems in privately-owned vehicles.
"Less than half a million, or 5 percent, of private cars had a navigational device instal-led which was compatible with the Chinese satellite system by the end of last year," the report said.
Still, Peng Hongbing, deputy director of the division overseeing China's electronic information development at the MIIT, is confident Beidou's market share in commercial and privately-owned vehicles will continue to grow.
The country's leading auto manufactures, including SAIC Motor Co in Shanghai and Dongfeng Motor Corp in northeast China's Jilin province, have started to roll out the network in new vehicles.
"The good news is that market is starting to realize Beidou is a great platform because it offers an efficient and stable service," Peng said.
Other business sectors are also taking advantage of the satellite system.
Revenues generated by the geographical information industry, including mapping and hardware equipment, posted a 20 percent annual increase in revenue during the past few years, according to the Ministry of Land and Resources, without disclosing detailed figures.
But probably the biggest growth sector has been "location requests" sent from smartphones.
With the market booming, online giant Alibaba Group Holding Ltd set up a 2 billion yuan joint venture with China North Industries Group Corp, which helped develop Beidou, in September.
Along with the State-owned military equipment manufacturer, Alibaba launched QianxunLocation Networks Co Ltd, an Internet company, that will use the satellite system platform for location and data analysis services.
"Beidou plays a fundamental role in a good number of sectors that provide basic services to Chinese people," Miao, secretary-general at GLAC, said.
"More location-based services, including transportation, health care and disaster relief, will be dependent on Beidou in the future."
The vibrant online-to-offline market, or O2O, has been one of the major reasons for Beidou's rapid expansion in the commercial world. This allows shoppers to buy goods online which are then delivered to their homes.
"Smartphones have fueled the demand in growth for location-based services and so boost Beidou," Dong Xu, a researcher at consultancy Analysys International in Beijing, said.
In fact, there is hardly an online sector that has not been affected by the eye in the sky network.
Apart from taxi-hailing mobile apps, an array of booking services have sprouted up on smartphones ranging from restaurant reservations to film tickets.
All need real-time location information, which is supplied by Beidou, or other satellite services.
Even so, the biggest potential customers online could be companies such as Didi Kuaidi, a local car-hailing platform, and rival Uber Technologies Inc in the US.
Didi Kuaidi is linked to the GPS mapping and location services operated by its backer Tencent Holdings Ltd, which is one of the big three online players in China. Uber uses its investor Baidu Inc's technology.
While the government is asking all smartphones manufacturers to install GPS systems that are compatible with Beidou, many still lack that function. But, again, that is changing.
"Our devices are using Beidou because the company embraces good-quality services that can lift customer experience," Lei Jun, CEO at Xiaomi Corp, one of the largest electronics companies in the country, said.
About 10 million Xiaomi smartphones, equipped with Beidou chips, are sold each quarter in China, proving the commercial eye in the sky has excellent vision.
Chip company to cash in on country's GPS-like navigational system
Peter Zhou and his firm Xi'an HuaXun Microelectronics Inc were going through a tough time in the summer of 2009.
The chip company in Xi'an, Shaanxi province, was struggling after he returned from the United States with a doctorate degree.
"We had no idea how we could make a profit competing against overseas companies that dominated the market," Zhou, founder and chairman of the firm, said. "It was the most difficult time in my working life, and I feared the company would not survive the winter."
The problem was HuaXun designed chips used in navigational devices that were only compatible with the US Global Positioning System or GPS.
Since 80 percent of the chips sold in China were made overseas, the company was on the verge of going under in the face of fierce competition.
With a last throw of the dice, Zhou decided to switch the firm's focus into building chips that operated the Beidou GPS system.
"It was the last chance to revive the company and a very risky one," he said.
But his bold move paid off as the Beidou network expanded in the opening eight months of 2010 to include six satellites.
Slowly his business started to take off as there were only a few Chinese chip companies conducting research and development into using the satellite system for commercial use.
Then in 2012, HuaXun rolled out its first integrated chip set to support the Beidou network.
"Orders from across the country started to pile up on my desk," Zhou recalled from his small office in the southern suburbs of Xi'an.
Fast forward three years and business is booming. Customers include logistics firms that need to monitor the locations of their trucks and goods, the police force and research institutes. In the first half of this year, HuaXun sold more than 900,000 chip set units, although the privately owned company has yet to reveal detailed financial figures.
It now employs 100 workers at its factory in Xian after receiving an injection of funding from a subsidiary of State-owned China Aerospace Science and Industry Corp in 2013 without disclosing the details.
As the aerospace and satellite navigation industry continues to expand in China, Zhou is confident demand for the company's chip sets will grow.
"Moving to the Beidou sector changed the destiny of HuaXun," he said. "It turned out to be a very wise decision."