Early next month, another high-level delegation from Shanghai will be in Johannesburg to attend a trade and investment seminar. In December, South Africa will host Focac VI, the sixth meeting of the Forum on China-Africa Co-operation, which will guide China's policy on the continent for the next three years.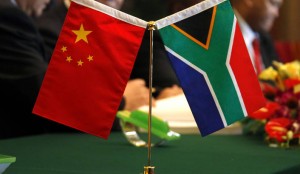 In 2016, the already jam-packed schedule of visits and exchanges between the two countries will see several new additions to deepen everything from mutual trade and investment to cultural understanding. And then there is the launch of Mandarin classes in South African public schools in the same year.
Although pupils will have the option to learn a Chinese language, it is not at all clear that higher-level executives at local state-owned enterprises (SOEs) will have much choice but to be educated in Chinese ways. Their places at the Chinese Academy of Governance in Beijing are already being reserved.
"Some aspects of China's approach to SOEs are worth noting," Deputy President Cyril Ramaphosa told Parliament last week, speaking of his visit to China last month, during which the latest agreements on SOE co-operation were cemented.
What the executives of SAA and Eskom will learn, though, is debatable. Seventeen years after the establishment of formal diplomatic ties, the initial caution by both Pretoria and Beijing – but particularly by Pretoria – has given way to an enthusiasm that has academics and analysts alarmed.
The evolution of South Africa's approach to Chinese expertise in SOEs mirrors the broader relationship between the two countries, and how it is maturing from prettily worded intentions to practical steps – with many potential pitfalls.
In 2011, when a presidential committee on SOEs was searching for a new framework for the likes of Eskom and SAA, China was just one of several countries used for benchmarking. By December 2013, a memorandum of understanding had been signed between the department of public enterprises and China's central SOE management authority. A "five- to 10-year strategic programme" between the countries, signed during a visit to China by President Jacob Zuma in 2014, laid out specific aims on working together on SOEs.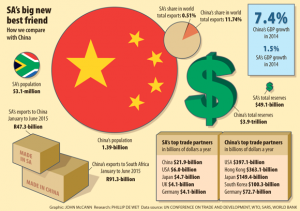 By the time of Ramaphosa's July visit, technocrats in the two countries were already discussing what training programmes would be relevant. If all goes according to plan, 2016 will see something between a steady trickle and a veritable flood of SOE managers returning from such courses, hopefully with fresh ideas on how to keep the lights on and make sure planes depart on time.
They may also return with new ideas on politics and governance. The Chinese Academy of Governance offers practical courses on subjects such as public administration, but also prides itself on furthering the cause of "socialism with Chinese characteristics". It has recently joined in a push to educate its students in guoxue, roughly but simplistically "Chinese civilisation", where lessons in business and ethics are drawn from Chinese history and culture, based on the conviction that Chinese culture has a fundamental comparative advantage.
'Political euthaniasia'
But borrowing such concepts could be "tantamount to political euthanasia", warned Paul Tembe, a fellow at the Centre for Chinese Studies at Stellenbosch University in a paper on China-Africa discourse in July.
"South Africa is going to borrow from China on how China has managed to run functioning SOEs, to take nonfunctioning white elephants, so to speak, and turn them into profit machines. I commend South Africa for that," Tembe said this week. But China "seems to have a tendency to culturalise everything", which is less than ideal when that culture and history have little resemblance to those of a country such as South Africa.
South Africa does not have a history of communism, in which the state ran the entire economy directly, and could achieve huge gains by simply setting private enterprise loose and forcing SOEs to compete with one another.
On the other hand, South Africa may not be dismayed by a future in which the SOEs play a more dominant role in the economy.
In 1999, the central committee of China's Communist Party adopted a slogan that can be translated as "grasp the large, let go of the small". It was a policy shift that saw small state-owned enterprises closed and larger ones merged and reorganised. The shift, and the tighter control of the party on the SOEs, is credited with the subsequent success of many companies that have become huge, global, profitable players.
But the successes achieved by the slimmed-down and merged SOEs are now putting pressure on the private sector that the move gave a foothold to in the first place.
"A new popular phrase in China is guo jin min tui, which translates roughly as 'state advances, private sector retreats'," the American National Bureau of Economic Research wrote in a technical working paper in March this year. "Implicit in this slogan is the recognition that state-owned firms have been successful, but their success has had negative aggregate effects."
This would no doubt please some on the left in South Africa, as it has in China, who would like to increase the leverage the state has to meet developmental objectives through the SOEs. But, at the same time, it would undermine the government project to nurture new, private sector, black industrialists.
Capital markets
In another paradox, China achieved that outcome in ways that the economic right is clamouring for in South Africa, and that the left has fought to a standstill before. "The success of many of China's SOEs is due in part to the reform in their shareholding system. In some cases, this has included the introduction of strategic investors and the listing of some SOEs in capital markets," Ramaphosa told Parliament last week.
Does that mean SOE executives will return from Beijing ready to lobby for their organisations to be privatised? Or will they argue that society will be best served by giving entirely state-controlled corporations monopolies?
Those are the wrong questions for all kinds of reasons, said Martyn Davies, the chief executive of Frontier Advisory and an emerging-markets specialist with a focus on China, who, for half a decade, has expressed ever-growing horror at South Africa's obsession with Chinese SOEs.
"Nobody, not even China's leading economists, can quite figure out what happened," he said. "To say Chinese development had this silver bullet in state-owned companies is just nonsense, because the only thing everyone agrees on is that it was some kind of miracle."
If the stupidly complex past 30 years of Chinese economics had to be simplified, Davies would tell it like this: realising it had many enterprises making it poor, China set out to do something about it. That included talking socialism while walking rampant capitalism, being extremely liberal (and unaccountable) with taxpayer money, figuring out how to undertake enormous infrastructure projects, and blasting out of the way obstacles to private development, including such niceties as environmental and worker protection.
"In South Africa, we're lost in these theoretical, ideological conversations," said Davies. "You know what the Chinese are doing? They're doing business."