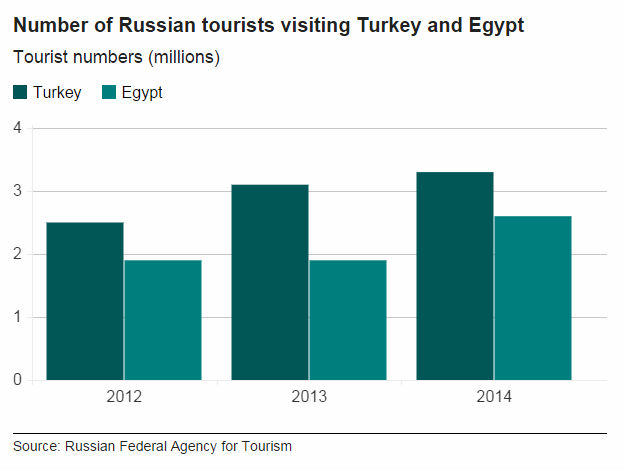 This week brought the first real snowfall in Moscow, along with the news that yet another winter getaway is off-limits.
But Russians have responded with defiance to the ban on holidays to Turkey.
Many see the move as appropriate payback for the shooting down of a Russian fighter jet, described by a furious President Vladimir Putin as a "stab in the back".
It's the second popular destination to be banned in under a month. Flights to Egypt were halted in early November, following a terror attack on a plane full of Russian tourists.
"Some things are more important than beaches, the sea and all-inclusive holidays," anchorman Dmitry Kiselyov boomed in his influential weekly news round-up on state television.
"Russians no longer see Turkey in the same way," he declared, thereby ensuring that statement becomes fact.
Last year, Turkey was the top choice by far for Russians – attracting 3.2 million tourists; 2.6 million travelled to Egypt.
When Egypt's beaches became inaccessible, many Russians were re-directed to the Turkish coast.
Still, people here seem broadly resigned to what has happened – even supportive.
"I think it's the right response. Turkey has shown it's a traitor," said Andrei, taking a cigarette break from work, out in the snow.
"According to the news, they are working with IS so I don't think it's safe there," he added.
That is the message that President Vladimir Putin has stressed for the past week.
He has accused Ankara of siding with terrorists by targeting a jet conducting airstrikes in Syria, against what he says were armed extremists.