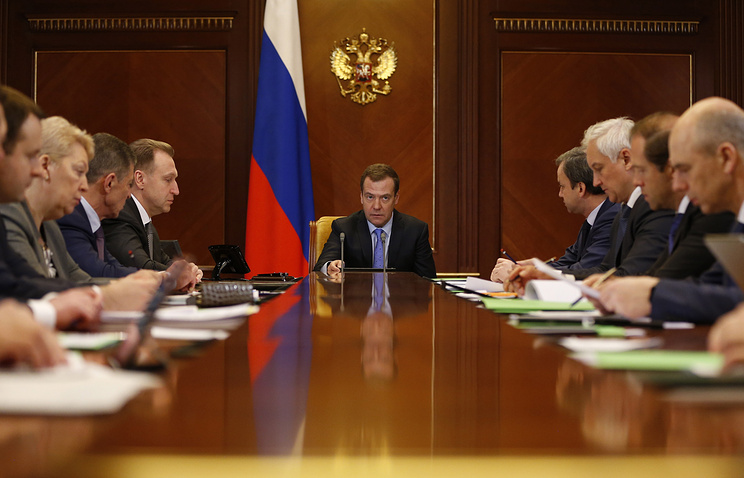 Russia's plan to prop up economy implies up to 107.5 bln rubles ($1.8 bln) to be earmarked in 2017, Prime Minister Dmitry Medvedev said Tuesday.
"The list we are going to finally endorse today, contains measures to prop up particular industries, which imply extra financing in addition to the resources already stipulated in the budget for this year, totaling up to 107.5 bln rubles," he said.
According to Medvedev, the economy support plan covers consumer goods industry, machine building, particularly car production, including the measures to support consumer demand.
"Also, the funds will be earmarked for transport machine building, production of locomotives and cars, machine building in agriculture, construction, highway and public service, as well as machine building in food and manufacturing industry so that those sectors could maintain upward momentum that emerged not only in machine building, but is also related to the agriculture production growth," Prime Minister said. Also, he added, the plan is to recapitalize the Industrial Development Fund in 2017. Russia's Industrial Development Fund will provide financing for at least 50 projects this year, he said.
"The plan is to recapitalize the Industrial Development Fund this year. There is an intention to provide financing for at least 50 projects aimed at the promotion of import substitution and production, using the fund's resources in 2017," he said.
Russia's light industry will get subsidies from the government for the sum of 0.5 bln rubles ($8.4 mln) in 2017, he went on.
"I have signed a resolution allowing the government to grant subsidies to light industry this year to compensate part of their spending on loan service. For this purpose quite significant funds will be allocated – more than 0.5 bln rubles," Medvedev said.
According to him, this money will help the light industry enterprises lower their debt burden, increase profitability of production, reduce production costs, as well as ensure that loan payments do not hamper production expansion, when it is necessary.
He added that subsidies will make it possible for companies to create new jobs, as well as to produce goods that could compete with foreign counterparts both in quality and price.
Earlier this week Russia's Industry and Trade Minister Denis Manturov said at the meeting with President Vladimir Putin that the government had endorsed 107.5 bln rubles ($1.8 bln) to be spent on recapitalization of the Industrial Development Fund. According to Manturov, the funds will be allocated to the key industrial sectors, first of all to the car production (more than 60 bln rubles, or $1 bln). Another 13.7 bln rubles ($229.5 mln) will be allocated to the agricultural machinery industry, and 2.2 bln rubles ($36.8 mln) – to consumer goods industry.
Set up in 2015, the Industrial Development Find has co-invested in 116 projects in 42 Russian regions totally worth 32 bln rubles. The total cost of those projects when implemented exceeds 129 bln rubles.