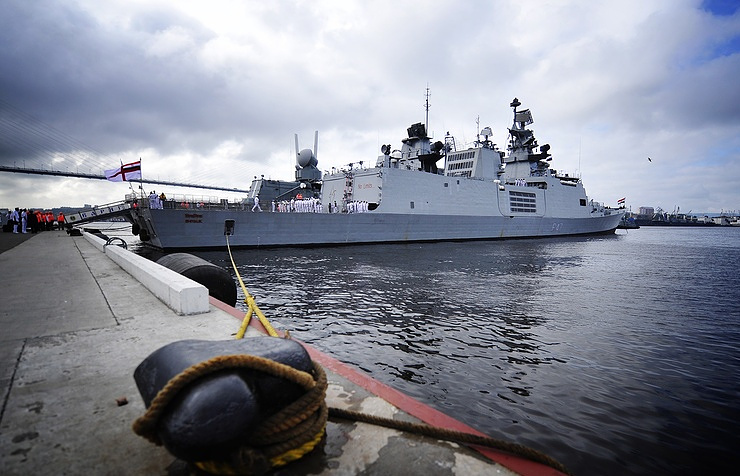 A surface combatant squadron of the Russian Pacific Fleet has sailed off for the Indian port of Visakhapatnam to take part in the Indra Navy joint drills, Vladimir Matveyev, a spokesman for Russia's Eastern military district, told TASS on Monday.
The squadron includes the large anti-submarine ship Admiral Tributs and the Boris Butom tanker ship.
"The squadron of the Pacific Fleet warship is heading to the Indian Eastern Fleet's base in the city of Visakhapatnam under the command of Rear Admiral Eduard Mikhailov, the commander of the Maritime all-arms forces flotilla. The ships are to reach the destination on December 14," the spokesman said.
According to Matveyev, the squadron left the fleet's home base in mid-October. Since then, the ships have performed duty tasks in the Pacific and Indian Oceans, have taken part in the Indo Defense international arms show in the Indonesian port of Tanjung Priok and have visited Thailand's port of Sattahip.
The drills will be held on December 14 through 21, in two stages. The coastal stage will be held in Visakhapatnam from December 14 to 18. Its program will include exchange of official visits, conference meetings on coordination, etc.
The sea-based phase will take place from December 19 to 21 in the Bay of Bengal. Participants will drill communications and night-time maneuvering skills, artillery shelling at sea-and air-based targets, skills to repel air attacks. The drills will involve ship-based helicopters. The Indian side will command the exercises.