December production was 10.825 million barrels a day

2015 crude output increased 1.4% from last year's level
Russia's crude output set another post-Soviet record in December, according to Energy Ministry data, as the nation's producers seek to withstand the slump in oil prices.
The country's crude and gas condensate production increased to 10.825 million barrels a day last month, beating the previous record set in November by 0.4 percent, Bloomberg calculations based on the data show. Output for the year increased 1.4 percent compared with 2014, exceeding 534 million metric tons, or almost 10.726 million barrels a day, according to the preliminary information e-mailed from Energy Ministry's CDU-TEK unit.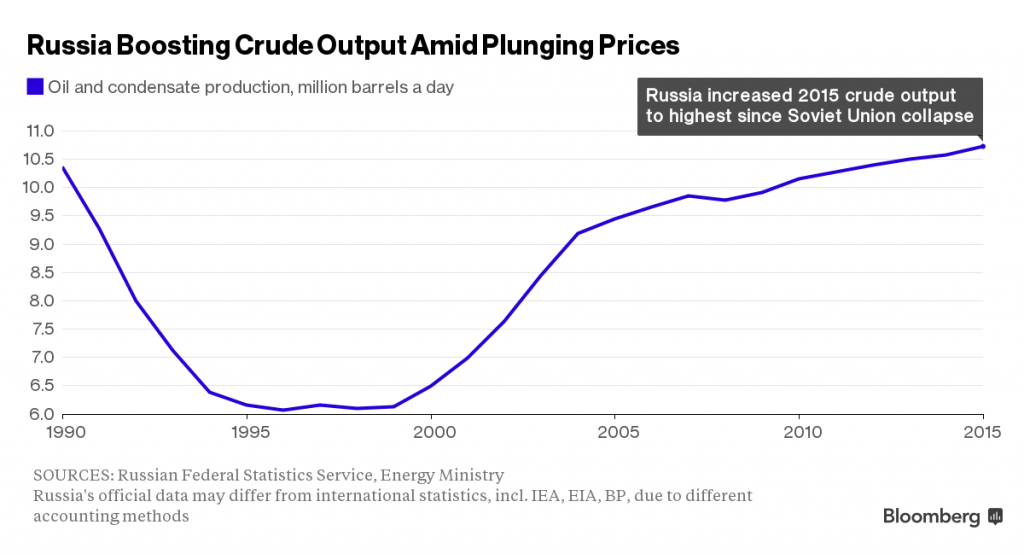 Russia's crude export rose to 5.25 million barrels a day in 2015, according to the data, with supplies to countries outside the former Soviet Union jumping 11 percent to more than 4.42 million barrels.
The Russian government, which relies on oil for about 40 percent of its budget revenue, doesn't expect a drop in production this year. Investments made two to three years ago have been supporting output in 2015 and will do so in 2016, Energy Minister Alexander Novak said Dec. 22. Still, production may decline next year if Russia has to increase the tax burden on the industry to narrow the budget gap given the plunging oil price, he said.
Natural gas output in Russia is declining as the main producer, the state-controlled Gazprom PJSC, faces stronger competition from its domestic rivals and lower sales in former Soviet republics. The nation's total production decreased 1 percent to 635 billion cubic meters, the lowest level since 2009, according to the data.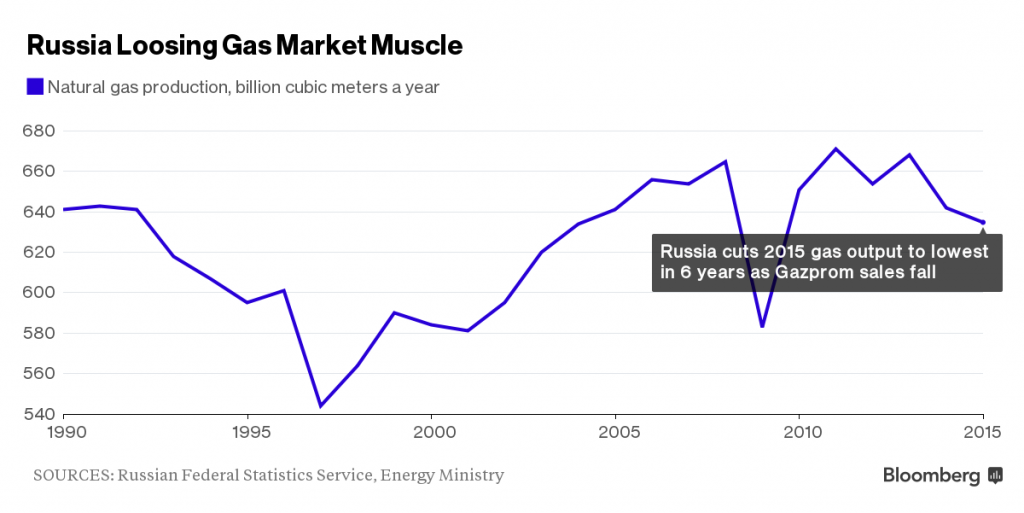 The ministry hasn't been disclosing Gazprom data since the start of last year, although the company predicted its 2015 output would fall to the record low of about 420 billion cubic meters.