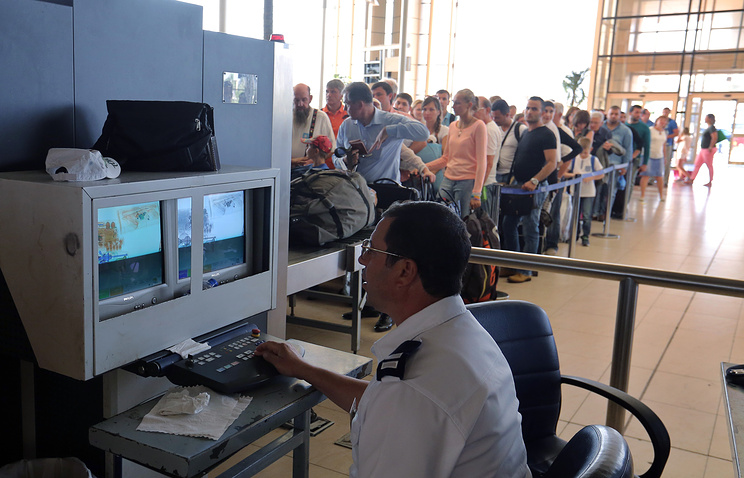 Russian government has approved the aviation safety protocol between the Russian Federation and Egypt, according to the cabinet's decree signed by Prime Minister Dmitry Medvedev.
"The protocol implies that Russia's representatives will monitor the accomplishment of aviation safety measures by Egyptian specialists in the country's international airports. The time of flights resumption depends on the accomplishment of aviation safety requirements by the Egyptian side," a note to the government's decree said.
The Russian side can set up a separate legal entity to track the aviation safety, the protocol said.
"The entity directly responsible for the implementation of the protocol's provisions from the Russian side (Federal Air Transport Agency, or Rosaviatsia – TASS) may authorize experts of the Russian legal entity to exert control in international airports of the Arab Republic of Egypt, from which airlines of the states involved perform flights to the Russian Federation," the document said. According to the protocol, Russia's legal entity will be able to exert control over the procedures of ensuring aviation safety regarding aircraft, passengers, cargoes, luggage, mail, flight catering and board supplies bound for the Russian Federation.
Russian, Egyptian airlines will perform flights only with permission of Russian aviation safety experts.
In end-December 2016, Russian experts visited the airport of Cairo for yet another inspection. In January 2017, similar inspections were performed in the airports of Hurghada and Sharm El-Sheikh.
Negotiations on resuming flights between Russia and Egypt have been underway since late 2015. Moscow suspended air service with Egypt in November 2015 after a terrorist attack on board an A321 jet from Russia's air carrier Kogalymavia that was en route from Sharm el-Sheikh in Egypt to Russia's St. Petersburg. The passenger airliner crashed over the Sinai Peninsula early on October 31. All 224 people onboard, including 217 passengers and the seven-member crew, were killed.