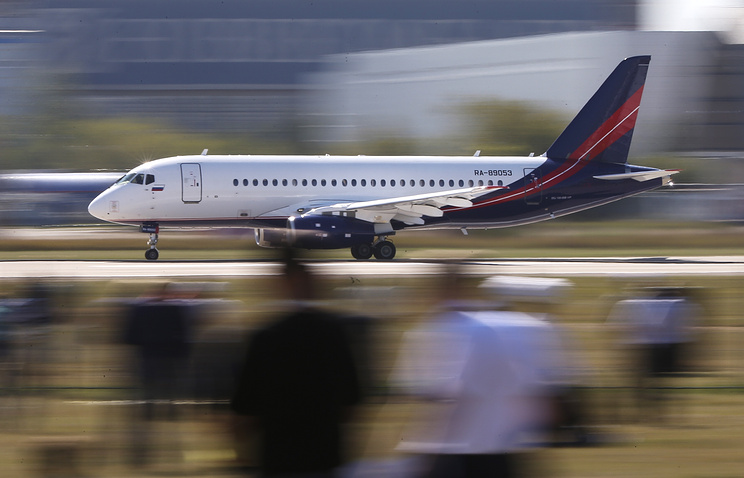 Russia proposes that Uruguay buy Russian aircraft and is ready to participate in the upgrade of Uruguayan hydroelectric power stations and supply of raw materials to that country, President Vladimir Putin said after the Russian-Uruguayan talks.
"We discussed the prospects of implementation of joint projects in energy sector. In particular, such companies as Gazprom and Power Machines could take part in the upgrade of Uruguayan hydroelectric power plants and in supply of necessary raw materials," he said.
According to the Russian leader, Moscow proposed that the Uruguayan partners consider the procurement of Sukhoi Superjet and MC-21 aircraft.
Putin called Uruguay Russia's "reliable partner in Latin America."
The Russian leader said that "the general mood for further expansion of bilateral cooperation has been confirmed in a joint statement signed by the heads of the states."
Speaking about trade and economic cooperation between the countries, Putin said:
"Unfortunately, over the past four years the trade turnover between Russia and Uruguay declined, the current situation is in focus of the intergovernmental commission."
Putin said that agriculture is one of the key areas of the teamwork.
"Uruguayan exports to Russia basically include food and agricultural products, they account for more than 90% (of exports) and recent years also saw improvement in quality and growth in supplies of other agricultural products – fish, seafood – to Russia," Putin said.
In his opinion, Russia is interested "in Uruguayan advanced technology in the agricultural sector."
Putin said that during the bilateral talks on Thursday the parties also touched upon "the prospects of joint projects in the energy sector."
Defense cooperation 
A number of cooperation agreements between Russia and Uruguay have been signed following the talks between Vladimir Putin and his Uruguayan counterpart. In particular, the two countries have agreed on defense cooperation.
Senior representative s of the defense ministries of Russia and Uruguay signed the relevant agreement in the presence of the countries' leaders. The parties also signed a joint statement on prevention of arms race in outer space.
The list of the signed documents includes: Memorandum between the Federal Customs Service of Russia and the National Customs Administration of Uruguay on the exchange of statistical data on international trade, Memorandum of Understanding between the Foreign Ministry of Russia and Ministry of Foreign Affairs of Uruguay on cooperation on archives.
The parties approved an action plan for development of bilateral cooperation.
The Presidents of Russia and Uruguay also signed a joint statement on the results of the visit.
The parties signed an agreement on cooperation between the Roskongress foundation and the Uruguay XXI agency for investment and export promotion. This document provides for cooperation between the parties in establishing effective communication between expert communities, business and political circles of Russia and Uruguay.