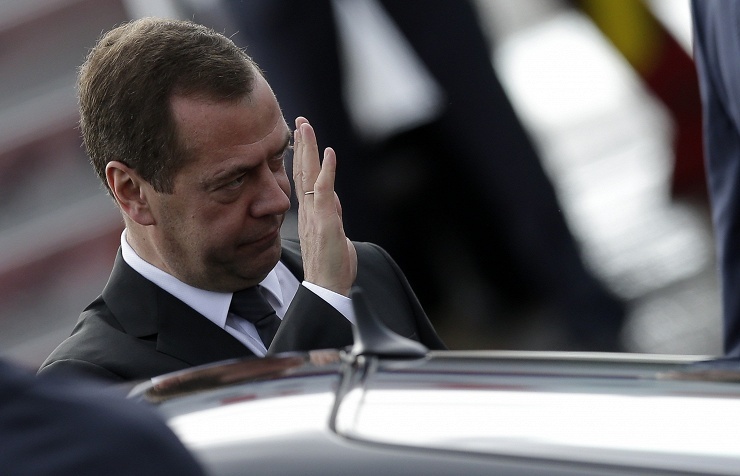 The situation in the Russian economy and financial sector is quite stable, Russian Prime Minister Dmitry Medvedev said at the Asia-Pacific Economic Cooperation (APEC) Business Summit on Wednesday.
"For Russia it may be one of the most difficult periods," he said. "The falling oil prices, the ruble collapse and also 1.5 years of the sanctions pressure on our country have a very serious impact on us."
"But despite this, the situation in our economy and financial system is stable enough, we are coping with the negative price fluctuations," Medvedev said.
Ruble weakening favourable to investors buying shares of Russian companies
"Apart from the negative factors, there are also positive things for foreign investors," he said. "Maybe not all like them in our country, but this is good for foreign investors. I mean that the weakening of the ruble has created the opportunity for buying Russian assets at lower prices than some time ago, and many take advantage of this."
Russia cannot do without foreign investment in the development of Siberia and the Far East, the Russian Prime Minister noted.
"We are interested in making the Russian Far East and Siberia our national priority of the 21st century, because these are vast territories with a large number of natural deposits, and here we, actually, cannot do without foreign investment," the prime minister told an audience at the APEC CEO Summit.
Russia ready to adjust laws on Vladivostok free port on investors' proposals
"I hope that the work conditions in this place and, accordingly, the advantages of free port will be comparable to similar ports that are located in the Asia-Pacific region, and we'll be able to compete with our partners," he said at the Asia-Pacific Economic Cooperation (APEC) Business Summit. "But it's a creative process, we will respond to the proposals of our partners, foreign investors. If it is necessary to adjust something in the legislation, we'll think it over and introduce amendments," he said.
Russia plans to increase grain exports to 35-40 million tons by 2020
"Russia currently produces plenty of grain, we export a lot of grain. However, we believe that by 2020 our export capacities will amount to about 35-40 million tons," the prime minister said.
He pointed to the fact that for many countries of the Asia-Pacific region cooperation in the food sector is of particular importance, and there are excellent prospects there. "The region is huge, growing, with the large population, and there is every reason to believe that the food security issues will be increasingly topical," Medvedev said.
According to him, the increase in the export capacities will contribute to the solution of the food security problem. "Moreover, we may talk not only about exports but also about the full-fledged cooperation in this area with our partners and with other Asia-Pacific market participants," the Russian premier said.