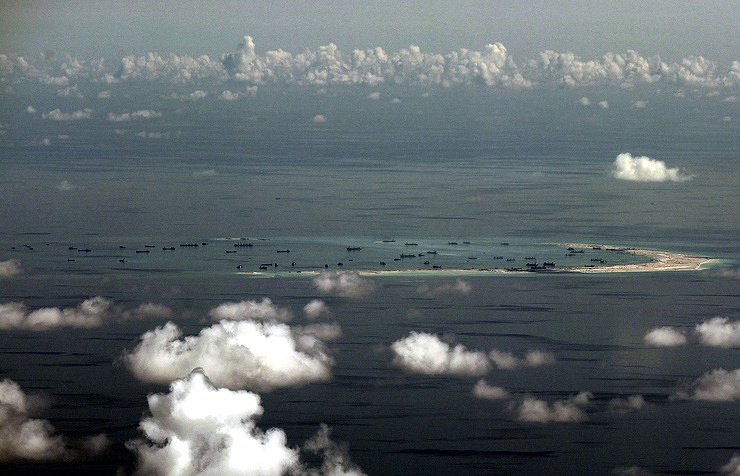 Joint Russian-Chinese naval drills "Sea Cooperation-2016" will start in the South China Sea today, Igor Dygalo, spokesman for the Defense Ministry's Navy department of information and mass communications, told journalists on Monday.
"The group of Pacific Fleet's combat ships will take part in the Russian-Chinese naval drills 'Sea Cooperation-2016″ which will take place on September 12-19 in the north-western part of the South China Sea near the shore of the Chinese province Guangdog," Dygalo, Captain 1st rank, said.
Not connected with political situation
The naval drills of the two countries will take place against the backdrop of deteriorating situation around the South China Sea. However, as Dygalo stressed, "naval maneuvers are not directed against other countries and not connected with any changes in the military-political situation in this region."
The spokesman said the drills have become a tradition and are being held for the fifth time. "'Sea Cooperation' will become another joint Russian-Chinese contribution to strengthening security in the Asia Pacific," he added.
Last year the drills took place in the Sea of Japan.
Main goals
Dygalo said that the main aim of drills is "to boost capabilities of the two fleets in joint counteraction to security threats at sea, to increase the level of cooperation between Russian and Chinese military sailors, to broaden friendship and cooperation."
Eighteen ships and support vessels, 21 aircraft, over 250 marines and 15 units of military equipment are involved in the drills. The Russian group includes Admiral Vinogradov and Admiral Tributs Udaloy-class destroyers, Peresvet battleship, Alatau rescue boat and Pechenga sea tanker.
The active phase of "Sea Cooperation" drills will be held on September 15-19. The Russian Defense Ministry said earlier that the marines of the two countries will practice in defending ships, saving and liberating ships.
Joint command
Chinese Deputy Navy Commander, Vice Admiral Wang Hai, and Russian Deputy Navy Commander, Vice Admiral Alexander Fedotenkov, will jointly command the military drills.
The first "Sea Cooperation" drills were held on April 22-27, 2012 in the Yellow Sea near the city of Qingdao in the eastern Chinese province of Shandong province. Twenty-five ships and submarines, 13 planes, nine helicopters and two special forces units took part in the drills.