Lending rates are dropping across Russia, and the central bank has little to do with it.
Companies and individuals are paying the least in almost two years to borrow cash from banks, while lenders have been charging each other less than the Bank of Russia benchmark for overnight funds for most of April.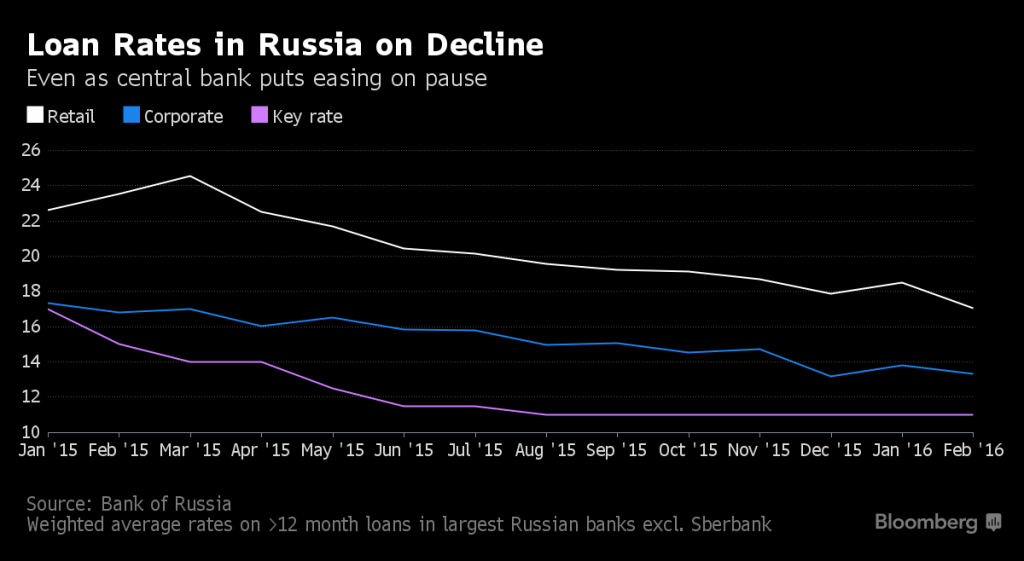 The easing credit conditions have more to do with fiscal than monetary policy as central bank Governor Elvira Nabiullina looks set to keep her benchmark interest rate on hold at 11 percent for the sixth straight meeting on Friday. While official borrowing costs remain elevated, the banking industry is awash with rubles drawn from the government's rainy-day Reserve Fund to help bridge Russia's growing budget deficit during a recession.
"The easing is happening by itself," Evgeny Koshelev, an analyst at Societe Generale SA's Rosbank PJSC unit in Moscow, said by e-mail. "The biggest factor is improving liquidity, mostly as a result of Reserve Fund spending." Koshelev sees no change at Friday's meeting.
The policy implication for Nabiullina is that she has room to keep benchmark borrowing costs on hold until she's confident that inflation is on a sustainable downward trend toward a 4 percent target for the end of 2017. While annual consumer-price growth slowed to a two-year low of 7.3 percent in March, Morgan Stanley economists predicted April 25 the rate will accelerate until August as the base effect from last year's rampant growth fades.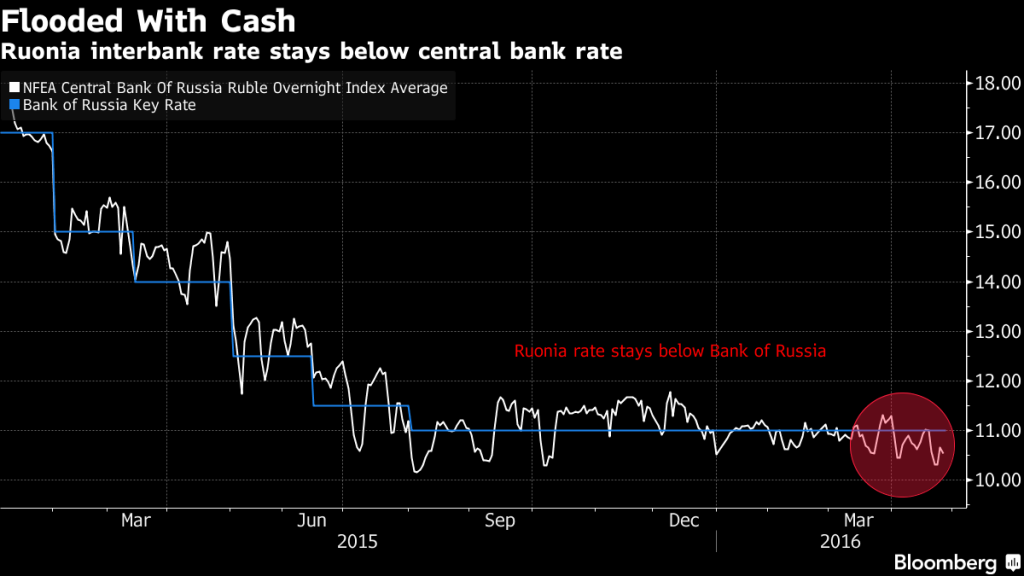 Of the 41 economists surveyed by Bloomberg, only six expect Nabiullina will reduce borrowing costs on Friday, with the rest seeing no change. As well as reducing loan rates, the gush of cash into the banking sector has also allowed the nation's biggest lender, Sberbank PJSC, to lower local-currency and dollar deposit rates.
In the current environment, the central bank won't lower its benchmark on Friday "in order not to over-ease," Oleg Kouzmin, the chief economist for Russia at Renaissance Capital in Moscow, said by e-mail. "That would increase the risk of accelerating inflation."