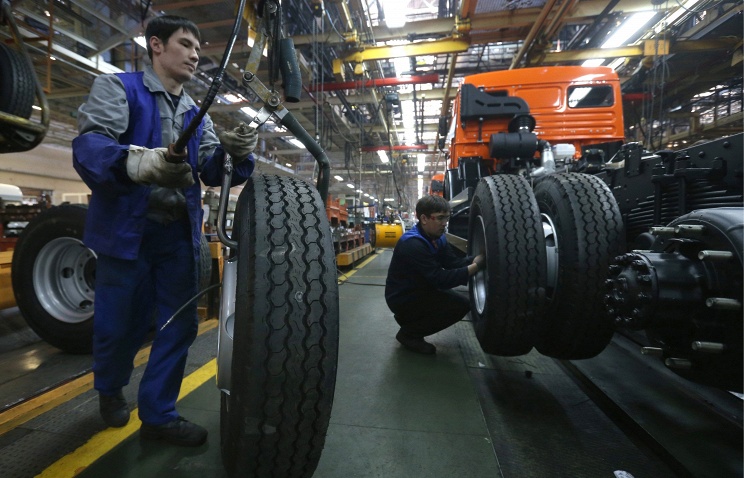 A total of 23 bln rubles ($354.5 mln) worth of budget funds will be allocated for car makers in a move to reduce production costs, Russian Prime Minister Dmitry Medvedev said Thursday.
"The car production costs will be partially compensated for," he said, adding that "around 23 bln rubles worth of budget funds will enable manufacturers to reduce accumulated losses and operating costs."
According to Medvedev, the move will eventually redound to the costs of production. "The growth shouldn't be as significant and it will raise the capacity utilization and keep employment both in the car sector and related industries," PM added.
"For the purpose of mitigating negative effects for the economy that local car manufacturers are facing now, the signed decree addressed to the Russian Industry and Trade Ministry stipulates allocation of budget provisions worth 22.5 bln rubles to be granted as subsidies in 2016 from the federal budget to Russian companies for compensating part of expenditures on production of wheeled transport vehicles," according to the document published on the government's official website.
Easy-term car loan and leasing program to be extended
Dmitry Medvedev signed the government decree extending the soft car loan and leasing program for 2016.
"The first decree extends for 2016 the easy-term motor vehicle loan and leasing program in effect last year," Medvedev said on Thursday.
The automotive industry needs greater attention of the government, the Prime Minister said. Over 16 bln rubles ($246.6 mln) will be allocated for the soft car loan and leasing program, making possible to keep loan and leasing rates at an acceptable level and maintain the demand for motor vehicles, Medvedev added.