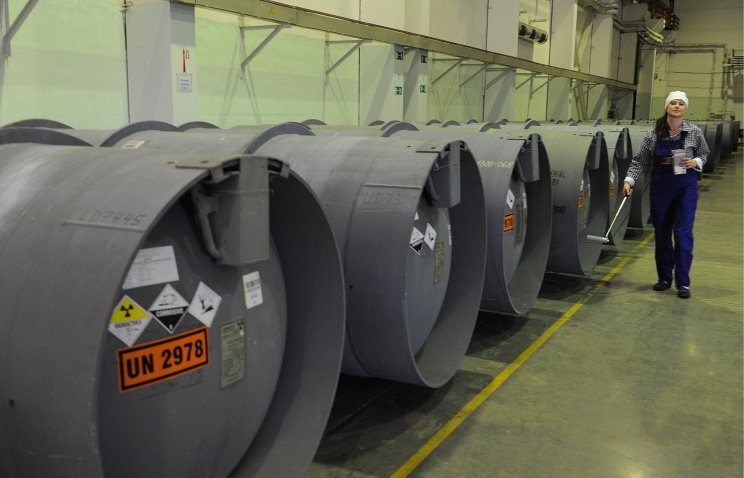 The International Uranium Enrichment Center (IUEC) plans to conclude a contract with Ukrainian partners for the supply of uranium ore from Ukraine to Russia, IUEC Commercial Director Gleb Efremov told TASS.
Ukraine sends its uranium to Russia for enrichment and the subsequent production of nuclear fuel for its nuclear power plants. The main supplier of fuel for Ukrainian nuclear power plant is Russian TVEL Fuel Company.
In April, IUEC plans to start the procedure of corporate approval of the transaction and to complete it no later than May 2016, Efremov said.
The parties have agreed on the basic price and quantitative parameters of the deal as well as logistics supply chain, he added.
According to him, by now the negotiations on the terms of the contract for 2016 for the supply of raw uranium from Ukraine for its further enrichment at the facilities of IUEC and fuel fabrication for the needs of Ukrainian NPPs at the facilities of TVEL company have been completed.
Efremov also noted that due to decline in spot market quotations for natural uranium and enrichment services since the previous deliveries in 2015, "one can speak about a certain reduction of the total turnover of transactions with Ukraine."
"The volume of supplies of enriched uranium by IUEC to Ukraine remained on the same level – 60,000 SWU (separate work units)," – he said.
The shareholders of IUEC are Russia's state nuclear corporation Rosatom (70%), Kazakhstan's Kazatomprom (10%), the Armenian Nuclear Power Plant (10%) and Ukraine's Nuclear Fuel state concern (10%).
The shareholders have quotas for uranium enrichment in proportion to their shares in the authorized capital of IUEC.
For the first time Ukraine used this opportunity for the needs of its nuclear power plants in 2012. The annual volume of supplies is 60,000 SWU.
Over the last four years, commercial supplies of enriched uranium by IUEC for the needs of Ukrainian NPPs exceeded $25 million.