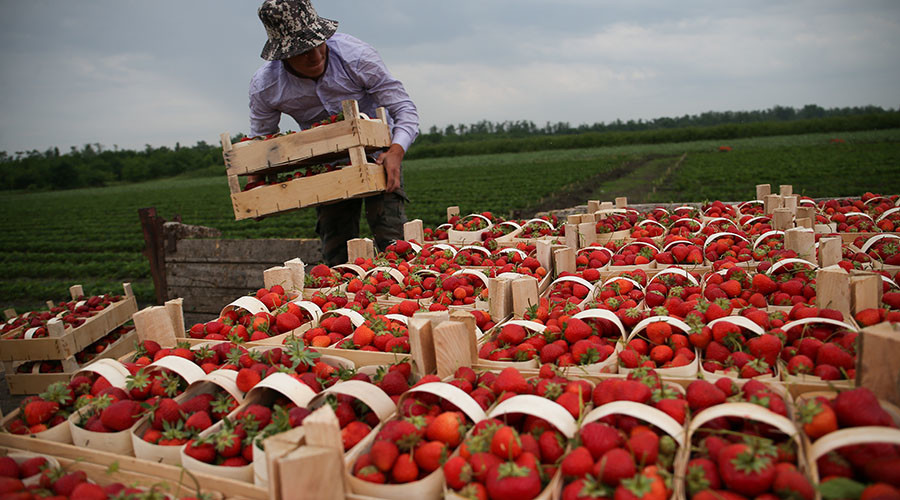 Russian Prime Minister Dmitry Medvedev said on Tuesday the country is gaining momentum as one of the world's leading exporters of agricultural products.
"Russia is successfully regaining the status of a major supplier on the global food market," said Medvedev, adding it has been achieved due to effort by the government, industry associations, and farmers.
He also said there has been unprecedented in its size state support for the agricultural sector.
"The government has provided 215 billion rubles ($3.3 billion) for the development of the agricultural sector," said the head of government.
According to Medvedev, everything has been done to transform agriculture from import to export, and that the "Russian market reached a such a quality that domestic and foreign consumers could chose Russian products without hesitation."
Following Western sanctions and Russia's food embargo two years ago, the Prime Minister said the country would pursue a policy of import substitution which could boost domestic agriculture. This would give Russian farmers a unique opportunity to replace imported goods with their own produce.
Western sanctions were a "dead-end track", but Russia has been forced to respond to the measures taken by Western countries, Medvedev said at the time.
Russia was listed as the world's ninth largest food manufacturer in 2013, and has reduced imports by nearly 40 percent to $26.5 billion from two years ago, according to government data.
The country is expected to become the world's largest wheat exporter this year, outpacing Canada and the US. Russian wheat exports are set for a record 23.5 million metric tons.
According to Russian Agriculture Minister Aleksandr Tkachev, agriculture may soon become the country's second biggest export after energy.