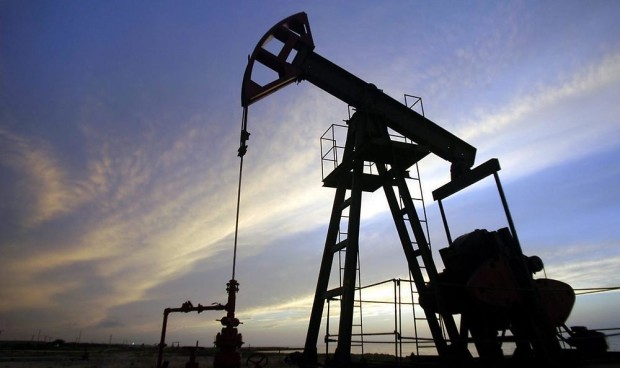 Russia beat Saudi Arabia to become the biggest seller of crude to China for the second time this year in the race to supply the world's biggest energy consumer.
Asia's largest economy bought a record 4.04 million metric tons of crude from Russia, or about 988,000 barrels a day, in September. That's 42 percent more than a year earlier and 31 percent higher than in August, according to data from the General Administration of Customs in Beijing on Wednesday. Oman was the third-biggest supplier, behind Saudi Arabia, while Angola slipped to fourth place from second in the previous month.
China, the world's second-biggest oil user, is buying near record amounts of crude from overseas as it seeks to take advantage of a plunge in prices to boost its stockpiles. The International Energy Agency estimates the nation will be responsible for more than a quarter of global consumption growth next year, making it a key battleground for producers seeking to defend market share amid a worldwide oversupply.
"The biggest battle to supply oil to China is between Russia and Saudi," Gao Jian, an analyst at SCI International, a Shandong-based energy consultant, said by phone. "Russia is gaining momentum with its pipeline and buying interest for its crude from teapot refineries."
A direct pipeline to northern China has boosted exports of East Siberia-Pacific Ocean crude. Seaborne shipments were also spurred by the proximity of the Kozmino port in Russia's east to the Asian nation, while new rules allowing small independent refineries known as teapots to buy imported supplies have also helped sales.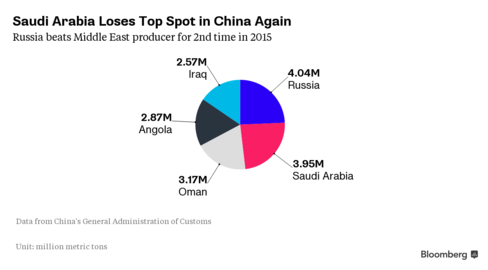 Shandong Kenli Petrochemical, a teapot refiner, bought ESPO crude as its first directly imported cargo after gaining a license last month, according to ICIS China, a Shanghai-based commodities researcher. The grade would help increase the plant's production of both gasoline and diesel, it said in an emailed note earlier in October. Russia last beat Saudi Arabia as the Asian nation's biggest supplier in May.
Saudi Arabia, the biggest producer in the Organization of Petroleum Exporting Countries, exported 3.95 million tons to China in September, 17 percent lower than a year earlier, the customs data show. Oman's sales jumped 18 percent to 3.17 million tons for the month.
China is the biggest oil buyer in the Asia-Pacific region, which the IEA estimates will use 31.75 million barrels a day in 2015, or about a third of worldwide consumption. The Paris-based agency predicts China will consume 11.13 million barrels a day this year.