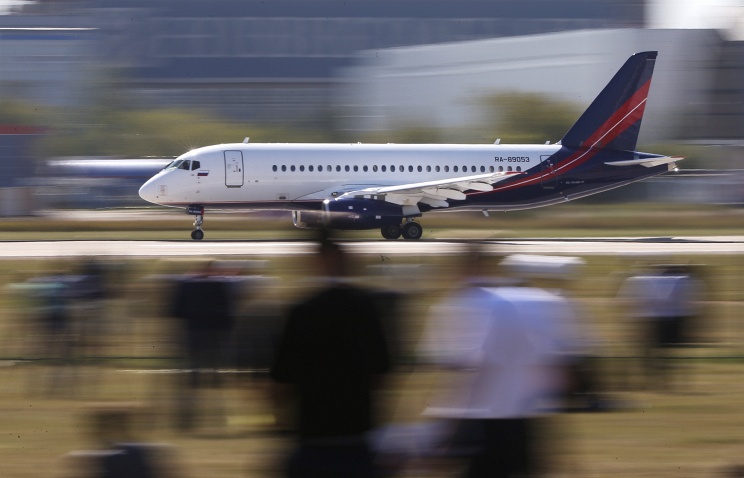 Russia is interested in selling SSJ-100 aircraft on the Iranian market and is ready to localize production of components in Iran, Minister of Industry Denis Manturov said at the Russia – Iran industrial exhibition.
"We are also interested in supplies of Russian airplanes, SSJ-100 aircraft in the first instance. Furthermore, we are ready to specifically discuss localization of components production to this aircraft in Iran," the minister said.
The trade turnover between two nations rose 5% last year and amounted to nearly $1.7 bln, the minister said. "At the same time, current bilateral trade and its growth rates do not correspond to the available potential," Manturov added.
Iran negotiating favored treatment in trade with Eurasian Economic Union
Iran's Minister of Industry, Mines and Trade Mohammad Reza Nematzadeh told TASS on Monday that the country is  currently in talks over favored treatment regime in trade with the Eurasian Economic Union.
"We're currently in talks, EAEU representatives are coming to Tehran in 2 days for talks. We're at the initial stage of those talks. Currently the issue is about an agreement on favored treatment regime in trade while further on it may be an agreement on free trade zone," Nematzadeh said.
Earlier Russia's Economic Development Minister Alexey Ulyukayev said serious steps are being prepared now to improve trade conditions for Iran. He added that so far the issue is about favored treatment regime in trade with the Eurasian Economic Union, which will mean that the EAEU will grant to Iran the terms, subsidies and preferences similar to those already granted or will be granted to any other country. However, above that the possibility of shifting to preferential regime of trade with Iran as well as of making a free trade zone agreement is also being discussed, he said.
According to Ulyukayev, First Deputy Prime Minister Igor Shuvalov will be in Tehran this week to "sign an agreement on promotion and protection of investments that was approved by the Russian government." "That is an important aspect, because investments will be bigger than before," he added.
Besides that a research group is now being created, which is to decide on feasibility of establishing a free trade area with Iran, Ulyukayev said. "It is too early to speak about the terms. Now we are launching negotiations on preferential treatment, meaning creating a free trade area as a final option," the minister said.