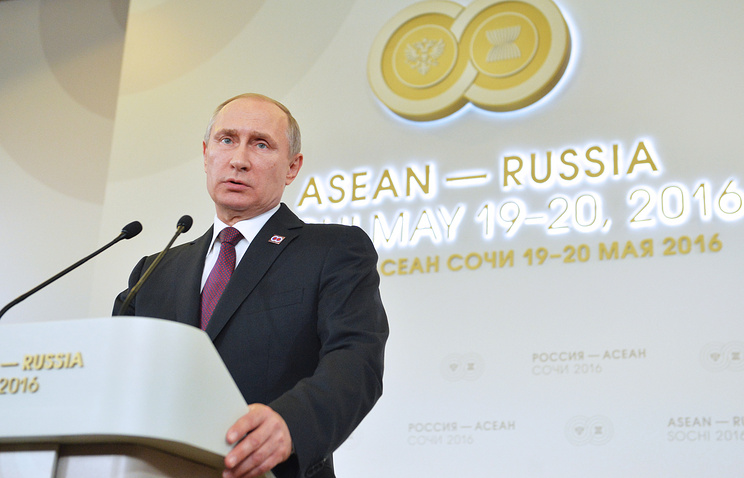 Russia and the Association of Southeast Asian Nations (ASEAN) discussed prospects for dovetailing integration processes, Russian President Vladimir Putin told journalists.
"We discussed how to dovetail our integration processes over a working breakfast," Putin said. He recalled that last year the Eurasian Economic Union had signed a free trade zone agreement with Vietnam. "A possibility of concluding similar documents with other ASEAN nations, including Singapore, Cambodia, Thailand and Indonesia, is being studied," the president went on to say. Putin said that during the talks Russia suggested that its ASEAN partners think over the creation of an all-embracing free trade zone between the Eurasian Economic Union and ASEAN. The Russian president said he had an impression that most businessmen in Russia and ASEAN supported his idea.
The Russian leader said that Russia's trade with ASEAN countries stood at $13.7 last year. The volume of reciprocal capital investments is estimated at 11 billion dollars. At the same time, these indicators do not match our countries' potential, the Russian president said. That is why the partners supported Russia's proposals to build up trade, investment and technological exchanges and are determined to improve the infrastructure of the Russia-ASEAN cooperation.
The president said that several mechanisms of cooperation in agriculture and education had been created last month. The defense ministers have held the first informal meeting; an agreement has been reached to step up interaction in emergency reaction to combatting infectious diseases; a ministerial dialogue has been launched in the cultural sphere. A start has been given to the first art festival. Russian and ASEAN transport ministers are planning to meet in Moscow this year. A Russia-ASEAN youth summit and a University forum will take place in Cambodia and Vladivostok, Russia, respectively.