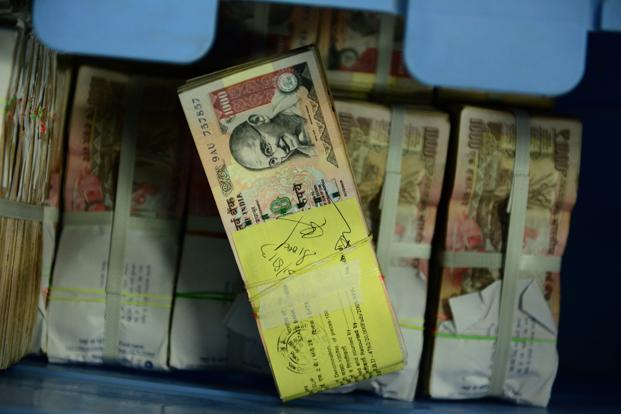 Mumbai: The Indian rupee on Friday hits 26-month low against the US dollar after foreign institutional investors (FIIs) continued to liquidate their investment in the local equity and debt market.
At 9.37am, the home currency was trading at 66.83, down 0.39% from its previous close of 66.57. The local unit opened at 66.71 and touched a low of 66.89 per US dollar—a level last seen on 4 September 2013.
Traders are cautious ahead of the key gross domestic product (GDP) and fiscal deficit data which will be out on Monday after 5.30pm. The government will issue GDP data for the September quarter. According to a Bloomberg analyst poll, GDP will be at 7.3% for the September quarter as compared to 7% in the June quarter.
The government will also issue fiscal deficit data for October. India's fiscal deficit was Rs.3.79 trillion during April-September, or 68.1% of the target for FY16.
Traders are also cautious ahead of Reserve Bank of India's (RBI) bi-monthly policy on 1 December where it is likely to keep rates unchanged.
The benchmark Sensex index rose 0.17%, or 44.57 points, to 26,003.20.
The yield on India's 10-year benchmark bond was trading at 7.727% compared with its Thursday's close of 7.724%. Bond yields and prices move in opposite directions.
FIIs sold equities in 14 out of 16 sessions. Since 30 October to 24 November, FIIs sold $962.08 million in equities. Since 27 October to 20 November, FIIs sold $701.18 million in debt.
In fiscal year 2016 so far, FIIs have sold $2.36 billion in equity, the steepest selling since fiscal year 2009. In FY16, FIIs were the net sellers in equity in five out of eight months.
Since the beginning of this year, the rupee has lost 5.5%, while FIIs have bought $3.64 billion from local equity and $8.31 billion from bond markets.
Most Asian currencies were trading lower. South Korean won was down 0.23%, Malaysian ringgit 0.21%, Thai Baht 0.17%, Taiwan dollar 0.16%, Philippines peso 0.1%, China offshore 0.09%, China renminbi 0.08% and Singapore dollar fell 0.05%.
The dollar index, which measures the US currency's strength against major currencies, was trading at 99.839, up 0.04% from its previous close of 99.795.
Traders expect that the positive data on US personal income, durable goods orders and weekly jobless claims released on Wednesday will likely boost the Federal Reserve's resolve to hike interest rates next month.
The European Central Bank (ECB) meets next Thursday and most in the market expect it to expand its asset purchase programme and lower its deposit rate, the rate at which banks park excess funds with it. Traders are now speculating that the ECB could cut rates more than the previous market consensus of a 0.10 percentage point cut, Reuters reported.