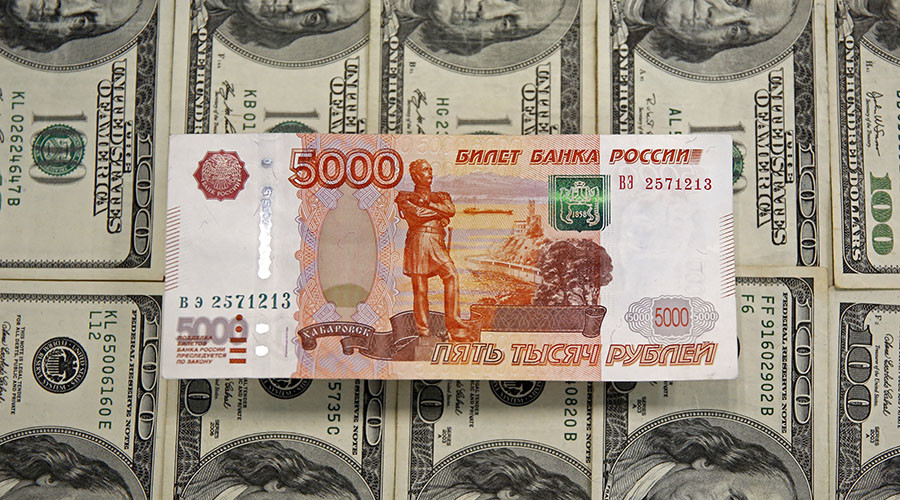 The Russian currency gained over four percent against the dollar on Thursday after the US Federal Reserve decided to keep interest rates unchanged and Brent crude climbed over $41 a barrel.
As of noon Moscow time, the ruble was trading near 68 against the greenback, compared to the previous day's exchange rate of 71. This is the strongest ruble rally since December after dropping to its historic low against the dollar of 85.6 in January.
Analysts link the ruble rally to positive sentiment in the capital markets after the US Federal Reserve meeting, where it was decided to keep key rates at 0.25 to 0.5 percent. The Fed also foresees fewer hikes in 2016.
Oil prices also helped strengthen the ruble as they rose on Thursday for the second day in a row on expectations of talks on a crude production freeze. The world's biggest oil exporters have agreed to meet in Doha in April, bringing more certainty to the fragile market.
The Brent benchmark, the main peg for Russia's Urals crude oil blend, was trading at $41.18, while the price of US crude West Texas Intermediate rose to $39.54.
Another reason that could affect the ruble in the short-term is Friday's interest rate decision by the Central Bank of Russia.
The majority of analysts believe that the regulator will keep the benchmark rate unchanged.
"The Central Bank keeping the rate at 11 percent will have a positive impact on the ruble. On the other hand, the decision may be accompanied by a press release with softer rhetoric , which will give a hope for a rate cut in the future and, accordingly, may weaken the ruble," Veles Capital analyst Yury Kravchenko told RBC.