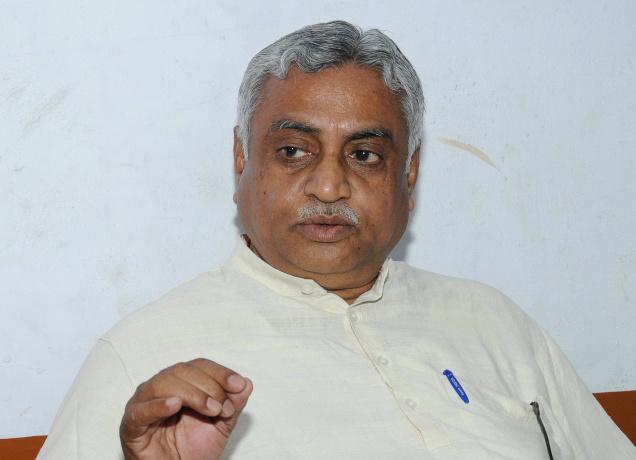 Not our job to evaluate BJP's performance, says Manmohan Vaidya
As the Narendra Modi government completes one year in office, the Rashtriya Swayamsewak Sangh has decided to tone down public criticism of the government and the Bharatiya Janata Party.
Sources in the Nagpur, where the headquarters of the Sangh function, toldThe Hindu that the foundation for the decision was laid at the All India Pratinidhi Sabha in March, and the decision is now being communicated to the cadres and affiliated organisations such as the Bharatiya Mazdoor Sangh and the Swadeshi Jagran Manch.
"It is not the job of the Sangh to evaluate the performance of the government," Manmohan Vaidya, All-India Prachar Pramukh of the RSS, said. B.N. Rai, general secretary of the BMS, however, confirmed that RSS joint general secretary Dattatreya Hosabale told "karyakartas" in Nagpur on Monday that "efforts are being made to convince the government on contentious issues."
Sources in the know added that the Sangh has decided to back the Land Acquisition Bill that had the government on the back foot for most of the budget session of Parliament.
While the BMS and the SJM have flagged concerns about the government's policies in the recent past, the Sangh leadership is happy with the Modi government on a few counts, sources said. The increased membership of the BJP — which the party claims crossed the 10.5-crore mark — will help the Sangh consolidate its spread within the country, it feels.
At the same time, Mr. Modi's foreign tours have helped the RSS widen its global footprint, a source said. The Sangh has presence in some form or the other in nearly 40 countries.
An RSS source in New Delhi said that the Sangh's backing of the Modi government is also a tactical retreat.
Independent line
Both Prime Minister Narendra Modi and party president Amit Shah have toed a line independent of the RSS's concerns.
"The party was quick to blame the defeat in the Delhi Assembly elections on the non-cooperation of RSS cadres. The Sangh leadership was taken by surprise at the aggressive manner in which the BJP brass began blaming the cadres. The Sangh would rather wait and watch than take the blame for any failures," he added.
He said the Sangh would like to wait till the results of the Assembly elections in Bihar (later this year) and Uttar Pradesh (in early 2017) are out before it begins asserting itself.
Eye on 2019 polls Nagpur-based RSS observer and analyst Dilip Deodhar said: "The Sangh has accepted the reality and already started working on the strategy for winning the 2019 Lok Sabha elections. The affiliated organisations had prepared an evaluation report for the Pratinidhi Sabha highlighting labour and farmer issues. They were asked to stay quiet till 2019."
Keywords: Manmohan Vaidya, one year of NDA rule, Narendra Modi, BJP government, RSS