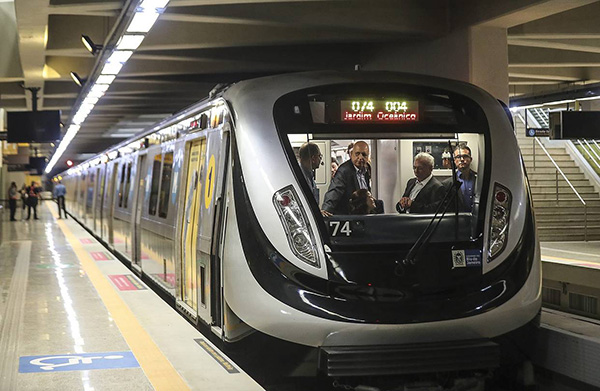 Line 4 of the Rio Underground System, which exclusively utilizes China-made trains, is set to start operating today. Line 4 will transport 300,000 people per day. The travel time from downtown Rio to the Olympic Park will be shortened to around half an hour.
An opening ceremony for Line 4 was held on July 30. Since this line connects Rio with the Barra Olympic Park, it is also called the "Olympic Line". Acting Brazilian President Michel Temer took the train and attended the ceremony.
Temer also delivered a speech in which he claimed that the infrastructure developed to prepare for the Olympic Games would be an important part of Rio's future. "We are getting into the Olympic time. Rio de Janeiro is the capital of Rio state, but on August 5 it will be the capital of world."
Given its status as the Olympic Line, each station of Line 4 is decorated with Olympic elements. A running track is painted on the floor from the hall to the inbound gateways,while swimming tracks provide outbound guidance. In one station located close to Rocinha, the largest slum in Rio, photos of impoverished children hang on the hall. "Peace" is written in several languages on the wall of Ipanema Station.
Construction of this special line started in 2010. It was initially expected to begin operation in December 2015. However, owing to economic and political factors, the date was pushed back to August 1. For now, only Olympic ticket holders and athletes can use this line. As for Rio citizens, they have to wait until September 19, when the Paralympic Games finish.