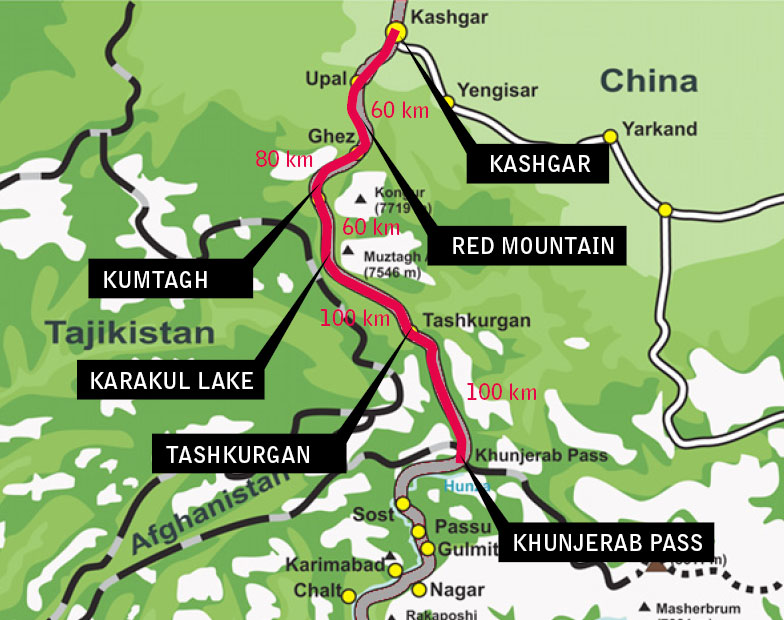 The Karakoram Highway linking northwest China's Xinjiang Uygur Autonomous Region and north Pakistan's Thakot is now back in service after five-year's extension and reconstruction.
CRI's Fei Fei has more on the new bilateral economic corridor to be built on this transit route.
First built in the 1960s and completed in the late 1970s, the Karakoram Highway had been in service for more than 30 years.
But harsh geological and climate conditions have led to erosions and damaged the road. Extension and reconstruction work started five years ago by China Road and Bridge Corporation. This September, the road was opened to the public again.
Du Fei with the China Road and Bridge Corporation said the high altitude caused extreme difficulties in the reconstruction efforts.
"The 300 kilometer long section from Khunjerab Pass on the China-Pakistan border to Pakistan's Thakot is very difficult. The highest altitude is some 4733 meters. We suffer from altitude sickness even at the level of 3000 meters. So you can imagine, when we reach 4733 meters above sea level, simply walking and talking can make you exhausted."
Avalanches, mudslides and earthquakes often happen around the Karakoram Highway. A landslide in 2010 caused the emergence of a barrier lake covering 20 kilometers of road.
Chen Haipeng who is in charge of the reconstruction of this section said the landslide lake brought great difficulties.
"We launched non-stop monitoring of the discharge amount of the lake. After conducting research, we decided to relocate the road rather than renovate the previous route. So we built five seven-kilometer long tunnels and four bridges to cross the lake."
Abdullah Jan with the Pakistan highway commission said before the barrier lake emerged, more than 3000 freight trucks ran through the Khunjerab Pass to Pakistan. But after 2010, only 600 to 700 trucks ran on the road.
He also said that re-smoothing the land on the transit route between China and Pakistan will promote bilateral trade and boost local economies.
The re-opening of the highway shortens the journey between Khunjerab Pass and Thakot from 14 hours to seven, cutting the transport cost for each ton of goods by some 100 US dollars.
The highway, built with fund from China during 1966-1978, is the only economic lifeline for Pakistan's northern region. Hundreds of Chinese engineers died while building the road.