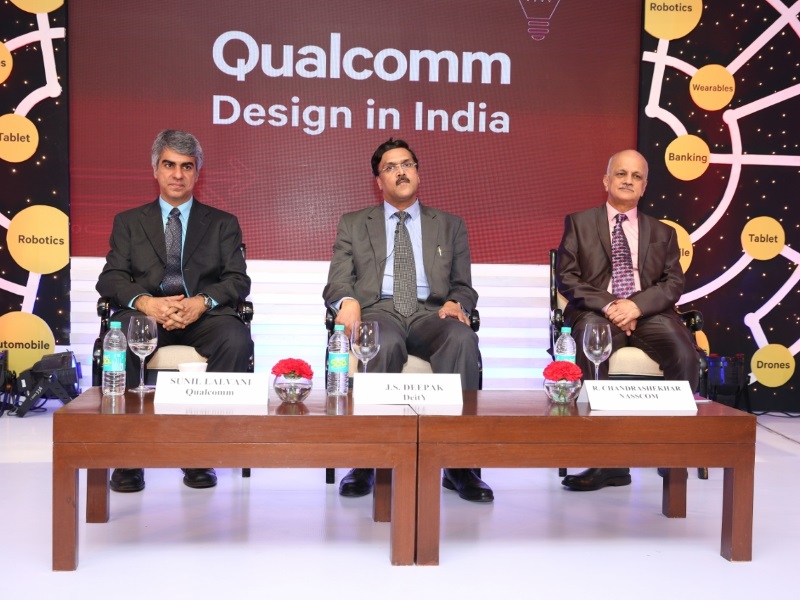 Silicon major Qualcomm has tied up with Nasscom to kickstart a 'Design In India' challenge as promised by its chairman Dr Paul E Jacobs during Prime Minister Narendra Modi's visit to Silicon Valley this September. The company has committed to mentoring hardware companies with the potential to come up with innovative solutions and help them reach scale.
Qualcomm India President, Sunil Lalvani said the company will play a key role with regards to design for 'Make in India' as a huge part of the digital infrastructure is already enabled by Qualcomm technologies.
"Qualcomm is at the heart of the mobile ecosystem which already talks to the digital infrastructure," said Lalvani, adding that the idea was to enable the ecosystem by bringing it in contact with the Qualcomm value chain.
Nasscom president R Chandrashekhar added: "While there is a great deal of strength in India, for design it should lead to products where the value resides in India and the solutions remains relevant for the country and the rest of the world."
DeitY secretary J S Deepak highlighted how domestic demand is important and electronics manufacturing is one area where there is huge scope. "We are looking at demand of order of $300 billion in a few years," he said.
Registration for the challenge will start on December 1 and end February 29,2016. It is open to all Indian companies and startups. Up to 10 shortlisted companies will win $10,000 while the final three can win $1,00,000 each. Qualcomm has also announced an Innovation Lab in Bangalore to provide technical and engineering support to these Indian companies.
Incidentally, Intel just completed its Innovate in India challenge recently.