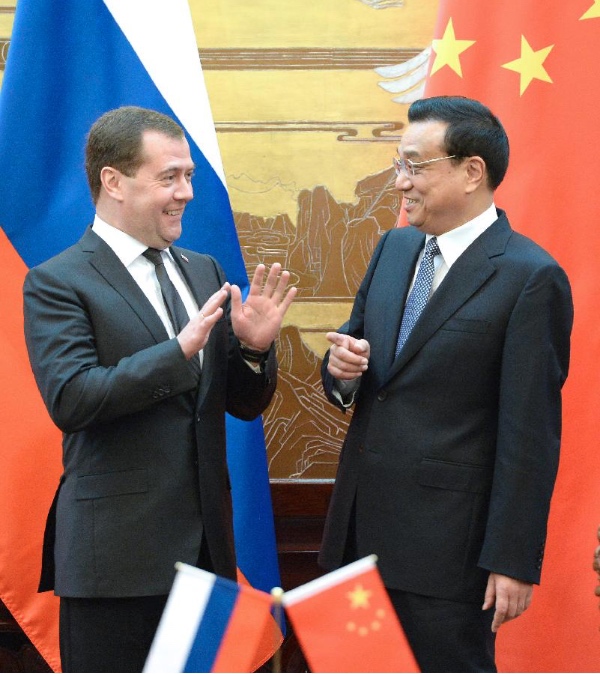 Russian Premier Dmitry Medvedev will set off to China for a four-day state visit on 14 December to boost ties between the two BRICS countries, a government statement said.
He will co-chair the 20th joint Sino-Russian Cabinet meet with his Chinese counterpart Li Keqiang on 16-17 December in Beijing.
Moscow is looking to increase trade and banking cooperation with Beijing, even as it battles extended rounds of sanctions imposed by the EU and US over the Ukraine crisis.
"During the 20th regular meeting of the Russian and Chinese heads of state, Dmitry Medvedev and Li Keqiang will discuss a broad range of issues related to trade, economic, scientific-technical, investment and branch cooperation, as well as bilateral humanitarian and cultural exchanges," said a Russian government statement.
A slew of bilateral inter-government and corporate agreements are expected to be signed during the summit. Medvedev and Li will look into synergies between the Moscow-backed Eurasian Economic Union and China's ambitious 'Silk Road' economic projects.
In the last annual meet between Medvedev and his Chinese counterpart Li in Moscow in 2014, China announced a series of initiatives, including more that $4.5 billion of credit lines to Russian banks and companies.
This was part of the multi-billion dollar deals inked during Li's visit, including nuclear energy, finance, tourism, high-speed railways, apart from the agreement on gas deliveries to China via the eastern route.
New collaborations between the two neighbours over the past two years have shown that the relationship is both broadening and deepening.
In 2012, Putin included China in his first foreign trip after assuming the Russian presidency. Xi Jinping also chose Moscow as his first state visit as China's head of state.
The two allies also have a massive currency swap deal in place worth $24.4 billion.
The agreement lasts for three years and can be extended if both sides agree.
Beijing is keen on substituting the US dollar with the yuan in all of China's trade with other countries. The Chinese currency now trades directly with the Japanese yen, the Australian dollar, the Brazilian real, the EU's euro, the New Zealand dollar and many other currencies.
Despite a Chinese slowdown and prospects of a Russian recession, the two Presidents Xi Jinping and Vladimir Putin witnessed the signing of an array of energy deals to boost economic ties between the two neighbours in September.
Russia, the largest oil and gas exporter, faces a recession this year as crude prices continue to fall.
"China remains a major trade and economic partner for Russia. We see the turbulence in the world and in our economies and we are prepared for it. We will have time to discuss the problems we do have, though they were not unexpected," Russian President Vladimir Putin said in September during talks with his Chinese counterpart Xi Jinping.
The two sides are also set on boosting military cooperation.
Putin in a meeting with Vice Chairman of China's Central Military Commission Xu Qiliang last month said Russia-China joint efforts are a stabilising factor in the world.
"We have noted on numerous occasions that the world is not becoming any calmer, and the joint efforts of China and Russia in all these areas, including the military one, are a serious stabilising factor in world affairs," Putin told Xu in Moscow.
Meanwhile, during his China visit later this month, Medvedev will also attend the meeting of the SCO (Shanghai Cooperation Organisation) Heads of State Council in Zhengzhou on 14-15 December, and will make a speech at the opening ceremony of the Second World Internet Conference in Wuzhen on 16 December.