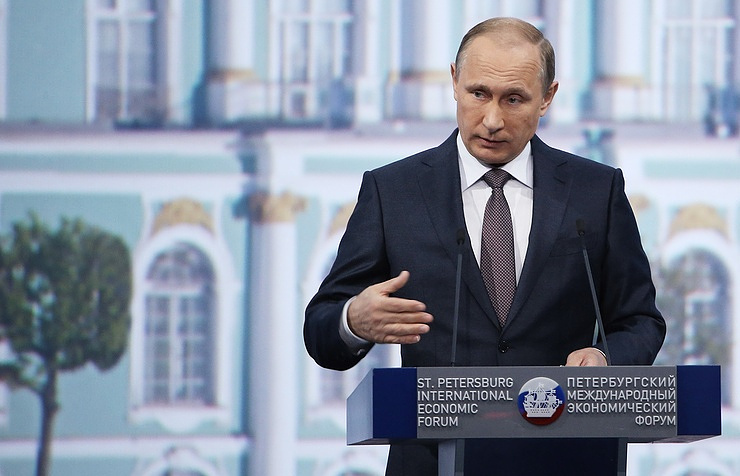 Russian President Vladimir Putin will meet heads of more than 40 global corporations "on the sidelines" of the St. Petersburg International Economic Forum (SPIEF-2016), presidential aide Yuri Ushakov said Tuesday.
"A traditional meeting with heads of biggest foreign companies and business associations will be held. Heads of more than 40 corporations from Europe, the United States, Canada, China and other Asian countries as well as heads of leading global associations such as BRICS and SCO business forums have been invited. Particularly, heads of such companies as BP, Siemens, Caterpillar Financial, Alibaba will attend the meeting," he said.
According to Ushakov, the president will tell the participants of the meeting about the state of the Russian economy, dwell upon the prospects of its development and the measures aimed at improving the country's business climate and reducing the administrative and tax burden on business.
On June 16, Putin will hold a working dinner with representatives of the international investment community organized by the Russian Direct Investment Fund (RDIF), the official said. Representatives of investment funds from 18 countries, with a total of $10 trillion under their management, will attend the dinner. President Putin plans to open the meeting by a welcome address, which will be followed by a discussion of pressing issues moderated by the President of the Russian Union of Industrialists and Entrepreneurs (RSPP) Alexander Shokhin while businessmen will be able to ask President Putin any questions they like.
The president will also have a discussion with heads of international information agencies, Ushakov said. "Traditionally this meeting wraps up President's participation in the St. Petersburg International Economic Forum," he said, adding that an open discussion like that, which will be held for the third year, "implies questions on the widest range of issues to be addressed to the president ."
According to Ushakov, heads of 12 leading global agencies will participate in the meeting. "We assume those are the biggest information agencies with a global coverage, which account for more than 80% of the world's news and analysis," he said. Also, Ushakov added, prior to the meeting with President Putin representatives of information agencies will hold their own summit, which is expected to be attended by representatives of over 30 information agencies.