Vladimir Putin is considering selling part of Russia's corporate crown jewels to China and India as the president struggles to meet spending commitments before his possible re-election bid in less than two years.
Russia is seeking buyers for 19.5 percent of state oil champion Rosneft OJSC and would prefer a joint deal with the two nations leading the growth in global energy demand, two people familiar with the matter said. Officials in Moscow expect to raise at least 700 billion rubles ($11 billion) from the sale, which would set a privatization record for the country.
Bringing two of Asia's three largest economies into Rosneft, which pumps more crude than Exxon Mobil Corp., would help Putin cover budget shortfalls while strengthening his geopolitical hand at a time when conflicts in Ukraine and Syria have driven relations with the U.S. and Europe to a post-Cold War low. It would also balance the near 20 percent stake that London-based BP Plc acquired in a landmark deal in 2013, a year before Putin stoked a separatist rebellion in neighboring Ukraine by annexing Crimea.
China and India have both publicly expressed interest in the Rosneft sale, which would cement their footholds inside the world's largest energy exporter, but neither side has said whether a joint deal is being considered. On Friday, though, Indian Oil Minister Dharmendra Pradhan said one couldn't be ruled out.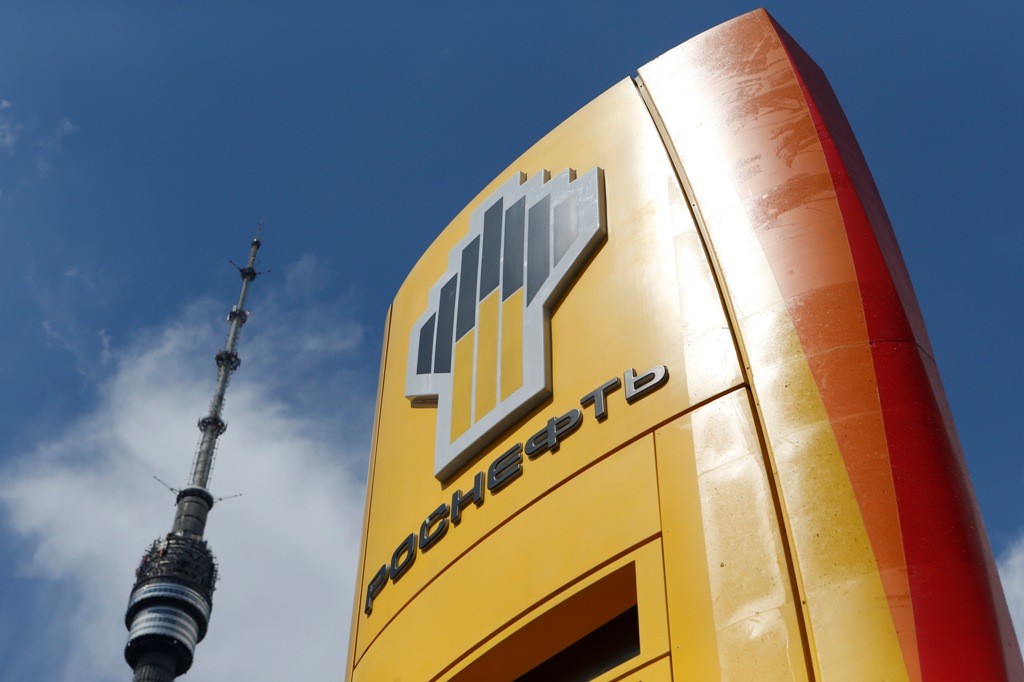 'Not Rivals'
"We are not rivals," Pradhan said in an interview at Putin's annual economic forum in St. Petersburg, adding that India's Oil & Natural Gas Corp. and China National Petroleum Corp. already have joint projects and more "would be nice."
Rosneft shares jumped 5.3 percent on Friday in London, boosting its market value to $52.8 billion. The stock has gained more than 43 percent this year.
Russia's energy strategy tilted toward Asia after western penalties over Ukraine curbed access to funding and demand in Europe flatlined even as prices tumbled. The focus so far has been on boosting oil and gas supplies to China, the region's largest market and a pivotal financier for sanctions-hit Rosneft.
CNPC, based in Beijing, said in April it was studying the possibility of participating in the privatization, but didn't elaborate. China has provided Rosneft and other Russian energy companies with more than $100 billion in loans and prepayments for supplies over the past decade, money that helped fund the acquisitions that turned the state-run company into the world's largest publicly traded oil producer by output three years ago.
Fastest Growing
While Russia's oil trade with India, by contrast, has been minimal, that's starting to change now that the country is replacing China as the center of global growth. The International Energy Agency predicts India, the fastest-growing major economy, will consume 4.2 million barrels a day this year, surpassing Japan's 4.1 million, and use an additional 6 million a day by 2040, compared with 4.8 million barrels a day more for China.
Last month, India's largest oil company, ONGC, agreed to pay Rosneft $1.27 billion for 15 percent of Vankor, one of the largest Russian oil fields to go into production in the last quarter century.
And in St. Petersburg on Friday, Rosneft agreed to sell another 23.9 percent of the project to three other Indian companies — Oil India Ltd., Indian Oil Corp. and Bharat PetroResources Ltd. The terms weren't disclosed, but two people involved in the deal valued it at $2.02 billion, the same price ratio ONGC paid.
Two Investors
Rosneft Chairman Andrey Belousov, who is also an aide to Putin, said last month that Russia would prefer to sell the stake to two strategic partners, without elaborating. Energy Minister Alexander Novak said in an interview in St. Petersburg that Russia would welcome interest from both China and India, but declined to comment on the possibility of a joint deal.
Complications related to sanctions may delay the sale, which would still leave Russia's government with control of the company, until next year, one person involved in the planning said. Other options, such as offering some shares to the public, are being considered, another person said.
Still, Economy Minister Alexei Ulyukayev said Friday he expects a deal this year, reflecting the urgency Putin expressed in April. Putin said then that he wants to complete the transaction as soon as a strategic partner can be found who isn't a "cheapskate."
"We need the money," Putin said at the time.