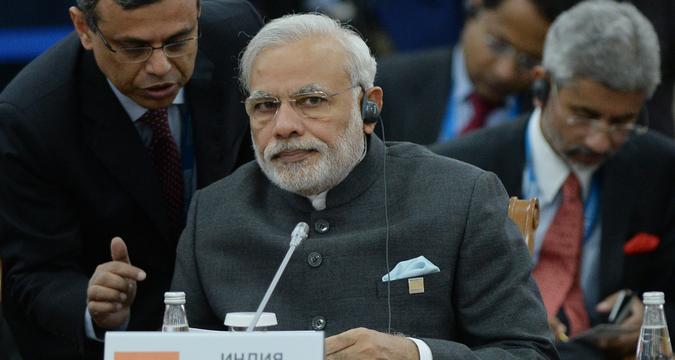 India's Prime Minister Narendra Modi will attend the summit of the Shanghai Cooperation Organisation (SCO) due to be held in Tashkent (Uzbekistan) on June 23 and 24, sources have confirmed to RIR.
The presidency of the SCO passed in 2016 from Russia to Uzbekistan. Regional security and the issues of economic cooperation are among the priorities of SCO. India and Pakistan were both admitted as members of the SCO at the summit in Ufa in July 2015, and some procedural issues had to be completed by both countries.
"I am confident that our Uzbek friends and colleagues will do everything to ensure that the summit in Tashkent will be held at the highest level," President Putin said to 'Uzbekistan Today' when the baton was passed to Uzbekistan.
While entry as a new member of the SCO, a key security, economy and energy cooperation group comprising Russia, China and the countries of Central Asia has been a major aim of Indian foreign policy, Prime Minister Modi will also use the occasion to push another important foreign policy initiative of his government, India's entry into the Nuclear Suppliers Group (NSG).
Russia has consistently been supportive of India's entry into the NSG and President Putin has already offered unconditional support for India's entry. Russia (when it was the USSR) was one of the seven original members of the NSG which was founded in 1974 after India first tested a nuclear device.
China is reportedly the most significant country opposed to India's entry, insisting that if India is admitted to the NSG, then its close ally Pakistan must also be taken in. China has maintained its stand that countries like India, which have not signed the Nuclear Non-Proliferation Treaty (NPT), should not be made members of the NSG. And, if that criterion is relaxed for India, then the same should be done for Pakistan. Chinese media have been reporting that India's entry would create an "imbalance" of power in South Asia.
There are also reports that Kazakhstan has some reservations about India's entry. The Russian, Chinese and Kazakh presidents will all be present in Tashkent at the SCO Summit.
The 48-member NSG controls access to sensitive nuclear technology and regulates all international nuclear commerce, to ensure non-proliferation of nuclear technology and goods. The NSG plenary meeting, at which India's admission to the supplier's group will be finalised, will take place in Seoul (South Korea) also on June 23 and 24, coinciding with the SCO Summit.
India was granted a one-time 'clean waiver' and already enjoys most of the benefits of membership under an exemption to NSG rules granted in September 2008, to support its nuclear cooperation deal with Washington. The waiver was given despite India having developed nuclear weapons and never having signed the NPT, the primary global non-proliferation instrument.
Prime Minister Modi is personally leading the Indian diplomatic effort to enter the NSG.
He called President Putin to offer greetings for the Russian National Day on June 12, and also to request Russia's assistance in bringing some members, like Kazakhstan, on board to support India.
Sartaj Aziz, Pakistan's foreign policy advisor, has called Sergey Lavrov, Russia's foreign minister, to also seek Russian support for Pakistan's candidature.
Modi sprung a surprise by tweeting his wishes for President Xi of China on his birthday on June 15, after which there has been a slight softening in Chinese opposition to India.
"As long as all NSG members reach a consensus over how a non-NPT member could join the NSG, and India promises to comply with stipulations over the non-proliferation of nuclear weapons while sticking to its policy of independence and self-reliance, China could support New Delhi's path toward the club," said an opinion piece by Fu Xiaoqiang of the influential state-run think tank, China Institutes of Contemporary International Relations (CICIR).
During his recently-concluded five-nation Western tour, Modi managed to secure the backing of Switzerland and Mexico, both of which were earlier not supportive of India's entry into the NSG. The United States is strongly pushing the Indian entry, writing to all member states to support India's entry.
Among other countries reportedly opposing Indian membership of the NSG include Turkey, New Zealand, Ireland, Austria and South Africa.
Indian envoys are intensively pleading India's case in capitals of all the 48 NSG member states, including in Moscow and, sources informed RIR, opposition to India's entry appears to be decreasing. Some are quietly optimistic that India may actually come on board, although it is unclear whether it will happen.
India has launched a massive diplomatic exercise over the last decade to secure membership to the NSG. President Pranab Mukherjee's recent trip to China and ongoing visit to three African countries (Namibia has large uranium deposits) and Prime Minister Modi's recent Western trip and visit to Tashkent are part of the final push.