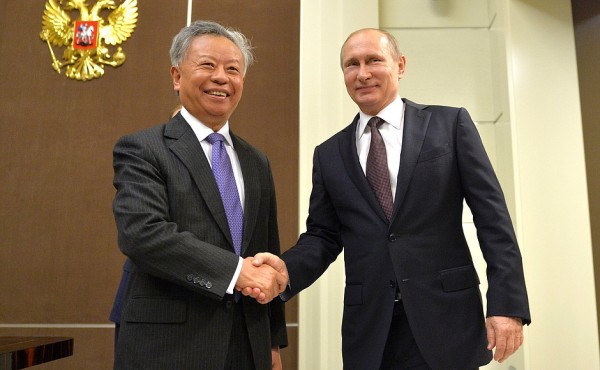 Russian President Vladimir Putin has said the new China-led AIIB will take up a "worthy place" among the world's international financial institutions, "complementing the IMF and the World Bank".
BRICS members, China, India and Russia are the three largest shareholders in the Asian Infrastructure Investment Bank.
Putin on Wednesday met Jin Liqun, the president of the new lender in Sochi. The Russian President invited the AIIB to participate in infrastructure projects in the country.
"We can propose a number of interesting projects in the Russian Federation: expanding the Trans-Siberian Railway, developing the Northern Sea Route, and developing the special economic zones in Russia's Far East," Putin told Liqun.
There are more than 30 countries waiting to join the Beijing-based AIIB, in addition to its 57 founding members, Liqun said in March.
The US and Japan have not applied for the membership in the bank. The new lender has 57 members including major allies of the US such as the UK, Australia, Germany, France and Italy.
BRICS members, China, India and Russia are the three largest shareholders, taking a 30.34 per cent, 8.52 per cent, 6.66 per cent stake, respectively. Their voting shares are calculated at 26.06 per cent, 7.5 per cent and 5.92 per cent.
The AIIB will extend China's financial reach and compete not only with the World Bank, but also with the Asian Development Bank, which is heavily dominated by Japan. China, however, has repeatedly stressed that the new bank is willing to work with other development lenders.
Washington however was sufficiently irked by the decision by many of its European allies to join the China-led bank while choosing to ignore US warnings about the new lender's transparency.
The AIIB was officially established in December and it started operating in January.
Putin on Wednesday described the AIIB as a "timely, important and useful initiative".
"Russia is one of the Asian Infrastructure Investment Bank's biggest shareholders, coming in third, and so we certainly hope for Russia's support for all of the bank's undertakings," the Kremlin quoted Jin as saying in his meeting with Putin.
Jin led the AIIB team that is participating in the ASEAN-Russia Summit in Sochi from May 19-20.