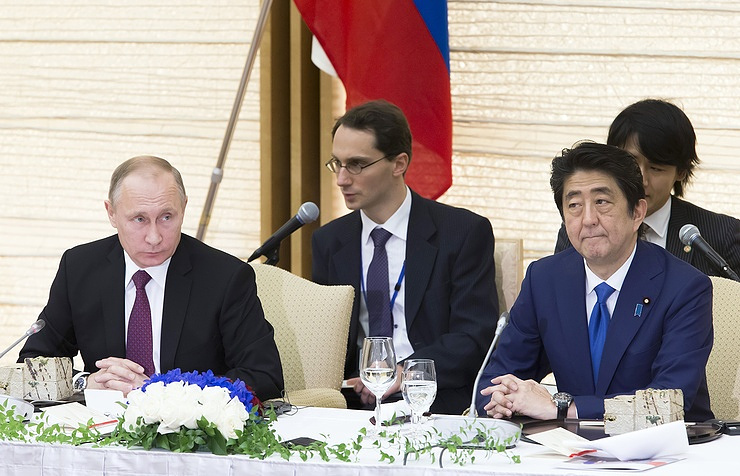 Russian President Vladimir Putin and Japanese Prime Minister Shinzo Abe have instructed the two countries' relevant agencies to draft new economic agreements.
"We have instructed the relevant ministries to develop a number of new agreements in the investment, tax and labor areas," Putin said.
He noted that the guidelines for further joint efforts had been outlined during the visit, and an impressive package had been signed. According to the Russian leader, a lot has yet to be done to foster bilateral cooperation to a level of genuine partnership. A large-scale plan of joint work has been agreed on by the two countries' intergovernmental commission to increase the flow of goods, services and capital and a list comprising dozens of projects in eight key areas, including the energy sector, industry, agriculture, infrastructure and humanitarian ties.
Putin recalled that the possibility of building the Russia-Japan energy bridge and the Sakhalin-Hokkaido gas pipeline was discussed.
He described cooperation between Moscow and Tokyo in the agricultural sector as essential. "Russia has considerable free agricultural land, which opens up opportunities for joint production of food and boosting its exports," the Russian president said. He also welcomed Tokyo's interest in developing Russia's Far Eastern regions. According to Putin, the two sides separately discussed the prospects for creating a free trade zone between Japan and the Eurasian Economic Union.
"In recent years the trade turnover between our countries has reduced. At the same time, we have agreed that we are able to return the mutual trade to the path of sustainable growth, but governments and business communities need to work harder," he said.
According to the president, the countries need to implement new initiatives and projects, change traditional forms of cooperation, move away from the practice of preferential deliveries of Russian raw materials "in exchange for machinery and equipment from Japan."
Putin said that the Russian-Japanese forum in Tokyo will result in over 50 business agreements and commercial contracts that include joint projects between the two countries in power industry, mechanical engineering, chemical industry, high technologies and other areas.
"We have no competition problems – we can only create competitive advantages for both parties," the Russian leader said.
According to Putin, Japan is an important partner in the Asia-Pacific region. Russia is interested in developing the Russian-Japanese relations and expanding mutually beneficial contacts. "That is why trade and investment issues were a major topic of two days of very intense talks with Mr. Abe. Although, of course, we have also paid attention to serious problems inherited from the past. I mean signing the peace treaty," the president concluded.
"The fact that more than 60 projects have been agreed on in a short period of slightly more than six months that have passed since the meeting in Sochi indicates the huge potential of the 'cooperation plan' and the extent of possibilities of the Russian-Japanese cooperation," he said.
Abe added that Moscow and Tokyo would continue active cooperation in all areas and expressed confidence that it would be successful.
Abe has expressed the hope his country and Russia will succeed in building relations that would facilitate the development of both countries.
"I dream of establishing relations that would help both countries, Japan and Russia to develop on the principles of mutual benefit," he said adding he hoped for establishing relations of trust between the people of Japan and Russia.
Abe called on President Vladimir Putin to work together to ensure the prosperity of the Asia-Pacific region and contribute to maintaining security and stability there.
Abe described Putin's visit to Japan as historic. "As I've promised to Vladimir (Putin) I'll be ready to come to the Eastern Economic Forum next year to look into what we've outlined," he said.