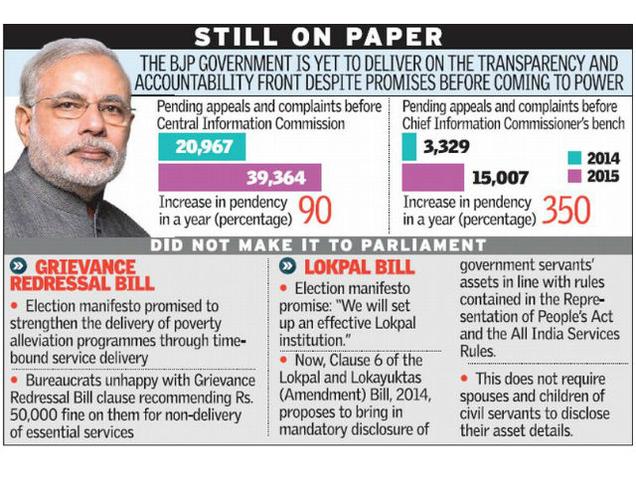 Without a head, functioning of Central Information Commission has come to a halt
When the Bharatiya Janata Party won by a massive majority in the general election last year, one of the key election promises that brought it to power was transparency and accountability in governance.
A year later, many of the electoral promises made on that front remain on paper — the Lokpal Bill and the Grievance Redressal Bill, key transparency and accountability legislation, did not reach Parliament at all. Even the functioning of the Central Information Commission has come to a virtual halt without a functioning head.
Right to Information activist Subhash Chandra Agarwal said the NDA government had disappointed information activists by ignoring or giving vague responses to RTI petitions. It was no longer possible for ordinary citizens to use the RTI Act effectively to hold the political establishment accountable as far as conduct and decision-making was concerned, he said.
"For example, every year, I used to file an RTI petition on January 17 to find out about the Padma awards selection process and I used to get the response from the Prime Minister's Office within the stipulated time frame. This year too, I did the same thing and all I have is a response from the PMO that the process is not yet complete, while the award ceremony is over. Several of my RTI appeals are now pending before the CIC as complaints filed under Section (18)," he said.
Grievance redress
Another election promise was to strengthen the delivery of poverty alleviation programmes through time-bound service. However, the Grievance Redressal Bill, which promises to do exactly that and had lapsed during the previous government, has not been introduced in Parliament at all.
Speaking in the Rajya Sabha on December 17, 2013, erstwhile Leader of the Opposition Arun Jaitley had said that "there was no political controversy surrounding the Grievance Redressal Bill." Other BJP leaders J.P. Nadda and Ravi Shankar Prasad too had spoken in favour of this Bill.
Alok Rawat, head of the Department of Administrative Reforms & Public Grievances, told The Hinduthat this Bill was being re-examined as "the earlier Bill had been drafted in a hurry." Mr. Rawat said the 'Pragati' initiative, an e-governance system, launched by Prime Minister Narendra Modi addressed public grievances with the PM or his office looking into public complaints via video conferencing with other relevant government authorities on a monthly basis.
"Some 10-20 cases of delay in income-tax reimbursements have been looked into so far. The Centre is also looking into delayed projects as part of the initiative," he said. However, transparency activists point out that these initiatives cannot be a substitute for a legally binding provision for government service delivery as envisaged in the Grievance Redressal Bill.
Lokpal Bill
The BJP's 2014 election manifesto said: "We will set up an effective Lokpal institution." However, a year later, efforts are under way to rephrase the law in such a way that the families of civil servants will be left out of mandatory financial disclosures. This will make it harder for the anti-corruption ombudsman to track transfer of illegally amassed wealth to the family members of a corrupt civil servant, Amrita Johri, an activist associated with the National Campaign for People's Right to Information, pointed out.
Congress MP E.M. Sudarsana Natchiappan, Chairman, Department-related Parliamentary Standing Committee on Personnel, Public Grievances, Law& Justice, and leading consultations on the Lokpal amendments, told The Hindu that the provisions of the Lokpal law must not be misused to "unnecessarily harass bureaucrats and their families" and that steps were being taken to ensure that this was not the case.
He further said that that the reason why the Bill has not yet been tabled in Parliament is because the Prevention of Corruption Act (Amendment) Bill already tabled in Lok Sabha gave more powers to the Lokpal. Also the powers of the Lokpal were being widened with Group A, B, C, and D government officers coming under its purview. It was important to harmonise the present Lokpal Bill with provisions contained in other anti-corruption legislations.
"One of the problems we confronted was that of agencies such as the CBI having to report to multiple masters; they have to be answerable to the Lokpal and the Vigilance Commission, which is an issue. These and other issues are being discussed right now and we want to come up with a Bill that is useful to both Parliament and government," he said.
Keywords: Lokpal Bill, Grievance Redressal Bill, CIC appointment, one year of NDA rule, BJP government, Narendra Modi