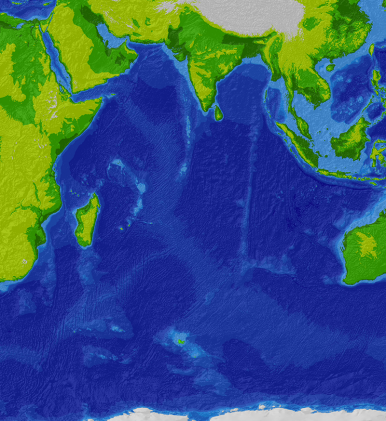 This week, Chinese President Xi Jinping is visiting India. While relations between India and China are expected to improve as a result of Xi's visit, India and China will continue to compete for influence in the region. This is evidenced by the fact that India's Prime Minister Narendra Modi will soon launch a new initiative designed to compete with China's Maritime Silk Road (MSR), known as Project Mausam.
As Shannon pointed out yesterday, Xi Jinping is pushing China's MSR in India's backyard with the eager support of countries like Sri Lanka and the Maldives. Even India is interested in potentially joining the MSR as the plan is a boon to the economies of the entire region. However, India has to look out for its own strategic interests as well.
As myself and others on The Diplomat have argued, India isuniquely placed to play a major role in Indian Ocean security and trade. India's location and power can serve to organize the states of the Indian Ocean littoral. Understanding this, Modi's government is currently shaping Project Mausam.
The project is considered the Modi government's most significant foreign policy initiative designed to counter China. It is inspired by India's historical role as the focal point for trade in the Indian Ocean. In pre-modern times, sailors used seasonal monsoons (mausam,मौसम means weather or season in many South Asian languages) to swiftly journey across the Indian Ocean. This trip usually involved starting from one of the edges of the ocean, around today's Indonesia or east Africa, sailing to India, stopping, and allowing another crew to wait for another monsoon to sail to the other edge of the Indian Ocean, as different monsoon winds blew in different directions at different times of the year. Crews would frequently winter for months in India or at one of the edges of the ocean waiting for another season of monsoons. This allowed for significant cultural exchanges as diverse people from different places would often spend months at a time living in foreign countries (Islam is said to have entered Indonesia in this manner).
Project Mausam would allow India to reestablish its ties with its ancient trade partners and re-establish an "Indian Ocean world" along the littoral of the Indian Ocean. This world would stretch from east Africa, along the Arabian Peninsula, past southern Iran to the major countries of South Asia and thence to Sri Lanka and Southeast Asia.
According to the Times of India, Indian Foreign Secretary Sujatha Singh discussed how to give shape to the project with Culture Secretary Ravindra Singh. The project is supposed to have both a cultural and serious strategic dimension. Perhaps one thing India could consider is seriously developing its Andaman and Nicobar Islands as a security and trade zone. The Economist recently reported on some Indian steps to do just that,  which is sensible given the islands' location close to the strategically important Straits of Malacca and Thailand. However, India has yet to reveal actual details on the policies and projects that it intends to pursue to advance Project Mausam.
It is clear that India's government intends to expand its maritime presence, culturally, strategically and psychologically (in order to remind the region why the ocean is called the Indian Ocean). Despite the lack of details, Project Mausam seems like a positive step in that direction and one that will generally be well-received. It is to be hoped, however, that the project is meaningful and does not lack teeth, like many other Indian initiatives of the past. The fact that Narendra Modi's government is initiating Project Mausam, however, at least gives one assurance that the Indian government is not launching another arbitrary and half-hearted initiative.