Sachin Parashar, TNN
Sep 16, 2014, 12.58AM IST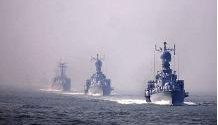 NEW DELHI: As China's President Xi Jinping comes calling on Wednesday, India is all set to launch what is probably the Narendra Modi government's most significant foreign policy initiative for countering Beijing's growing influence in the Indian Ocean region.
Long accused of remaining a mute spectator to China's expanding interests in the region — and the astounding success of Beijing's "maritime silk road" proposal — India will soon launch its own Project Mausam, a transnational initiative meant to revive its ancient maritime routes and cultural linkages with countries in the region.
Titled Project Mausam: Maritime Routes and Cultural Landscapes Across the Indian Ocean, the project focuses on the natural wind phenomenon, especially monsoon winds used by Indian sailors in ancient times for maritime trade, that has shaped interactions between countries and communities connected by the Indian Ocean.