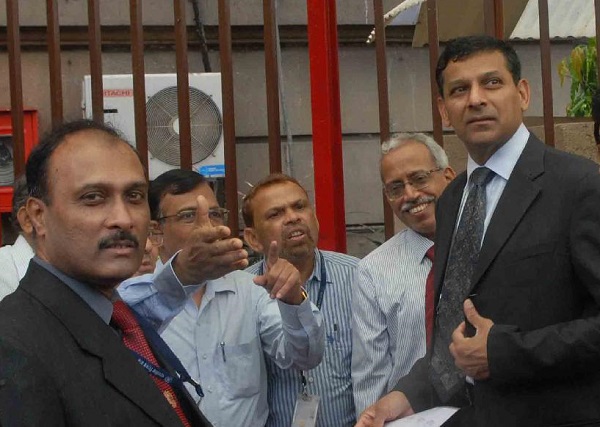 In India, doubts over a new way of measuring GDP, that created the world's fastest-growing major economy overnight, still linger.
India's Central Bank Governor Raghuram Rajan has raised fresh doubts over the new method of calculating GDP that was introduced early last year.
"There are problems with the way we count GDP which is why we need to be careful sometimes just talking about growth," Rajan said at an event on Thursday.
"We have to be a little careful about how we count GDP because sometimes we get growth because of people moving into different areas. It is important that when they move into newer areas, they are doing something which is adding value. We do lose some, we gain some and what is the net, let us be careful about how we count that," he said.
The Reserve Bank of India (RBI) pointed out several gaps in the new figures in April last year, which it said clouded an accurate assessment of the economy and could lead to poor policy.
India is now outpacing China with above 7 per cent annual growth.
The new method of calculating India's GDP measures economic activity by market prices instead of factor costs, taking into account gross value addition in goods and services as well as indirect taxes but excludes subsidies.
India's real annual GDP accelerated in July-September to 7.4 per cent from 7 per cent. But growth of nominal GDP slowed sharply to 6 per cent from 8.8 per cent in April-June, suggesting tepid demand.
Indian Finance Minister Arun Jaitley in New York last year dismissed critics.
There is "no serious substance to charge that GDP data is misleading. A lot of people can't digest that India is doing well", India's CNBC TV18 quoted Jaitley in his interaction with US investors.
Many analysts have argues the picture presented by the GDP numbers does not corroborate real economic activities such as corporate profitability or bank loan growth.
Rajan said on Thursday it is important to look at the way the GDP is calculated as some times the rise in GDP may not be a case of any value addition.
Central Bank governor Rajan said that there were many suggestions from various quarters on the ways to calculate GDP in a better way and said such suggestions should be taken seriously.
Economists, including the Indian government's Chief Economic Advisor Arvind Subramaniam, have warned against rushing in to use the new numbers to craft policy.
"I am puzzled by the new GDP growth numbers. The revised numbers show GDP growth rose from 4.7 per cent to 5.1 per cent for 2012-13 and from 5.0 per cent to 6.9 per cent for 2013-14. This means acceleration in GDP growth of 1.9 percentage points in 2013-14, just by comparing the new numbers across time. This is mystifying because these numbers, especially the acceleration in 2013-14, are at odds with other features of the macro economy," Subramaniam told Indian daily, the Business Standard.